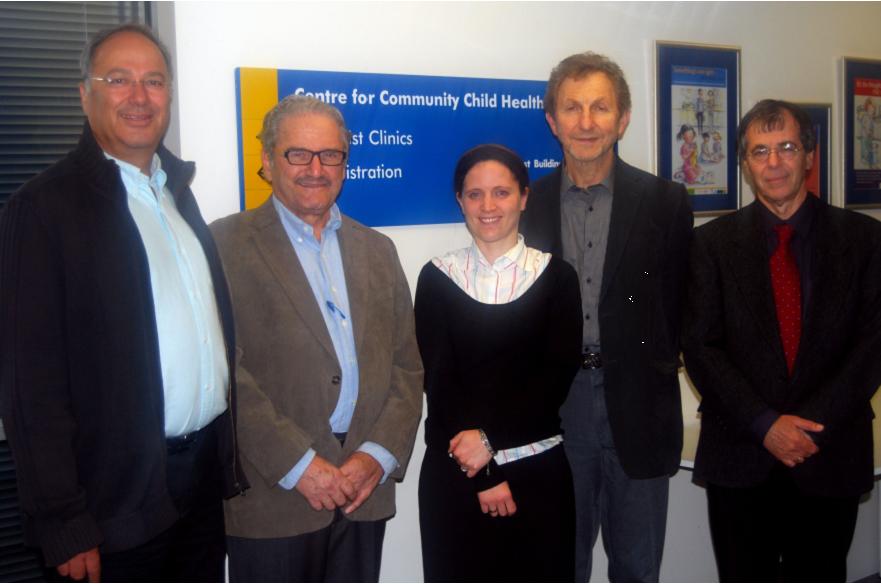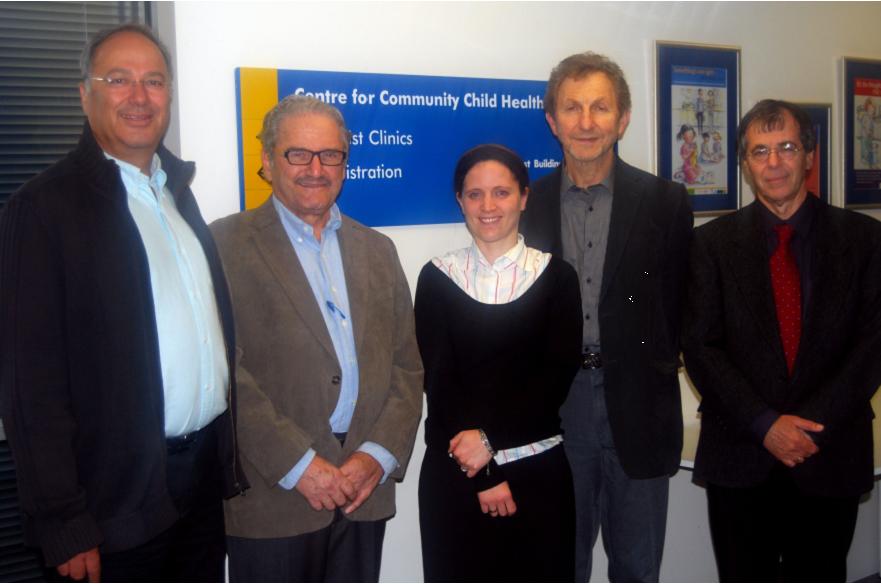 Three pediatric specialists from Israel, including Prof. Eitan Kerem, head of Pediatrics at the Hadassah University Medical Center, visited Australia in May to meet with colleagues at the Royal Children's Hospital in Melbourne as part of an initiative facilitated and backed by Hadassah Australia to help Israeli physicians institute a comprehensive community pediatrics training program in Israel.
The initiative, entitled the "Goshen Project," was named after the Tel Aviv restaurant where it was created. The other physicians are Prof. Boaz Porter, Pediatrics Coordinator for the Israeli Maccabi Health Fund, and Prof. Mati Berkovitch, President of the Israel Pediatric Association and the physician spearheading the Goshen Project. The specialists met with Melbourne-based Prof. Frank Oberklaid, Founding Director of the Center for Community Child Health at Royal Children's Hospital, and Dr. Hava Gadassi, the first Pediatric Fellow to be trained in Australia as part of the Goshen initiative.
The comprehensive pediatric community health project will address treatment of chronic illnesses among children, as well as developmental and behavioral problems. "Many of the conditions we see in adult life, such as diabetes, heart disease, and mental health problems, begin in early childhood," explains Prof. Oberklaid. "In Australia," he relates, "pediatricians are among the leaders pushing for government policy to reflect this."
"While Hadassah Hospital is at the forefront of research into chronic illness," Prof. Kerem explains, "child health services remain relatively undeveloped, and the vast majority of Israel's pediatricians have not been trained in working within the community." The goal is for Hadassah to set up an academic center, loosely modeled on Prof. Oberklaid's Melbourne Center, which will lead in training, research, public policy, and advocacy on behalf of children.
See previous articles on Goshen Project:
Pediatric Collaboration Launched between Hadassah Medical Center and Australia's Royal Children's Hospital Under AUSiMED Initiative of Hadassah Australia
Pediatric Collaboration Launched between Hadassah Medical Center and Australia's Royal Children's Hospital Under AUSiMED Initiative of Hadassah Australia