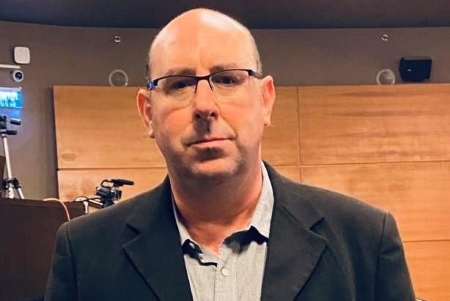 Hadassah Medical Organization is pleased to announce the appointment of Dr. Yaniv Sherer, MD, as Director of Hadassah Hospital Ein Kerem.
Dr. Sherer, whose position becomes effective on April 1, 2023, comes to Hadassah from Barzilai Medical Center in Ashkelon (Israel), where he served as Deputy Director.
He succeeds Yinon Buda, MD, who has been Acting Director of Hadassah Hospital Ein Kerem for the last 18 months.
In addition to his position at Barzilai Medical Center, Dr. Sherer's broad experience includes serving as Deputy Director General of Ichilov Tel Aviv Medical Center, Medical Assistant to the CEO of Israel's Ministry of Health, and a physician in the Israel Defense Forces (IDF).
Dr. Sherer is a founder of Israel's National Program for Quality Indicators in Community Healthcare, which publishes the Health Quality Indicators Report of the Ministry of Health. The annual report is based on key measures of hospital quality, such as diagnosis time, waiting time, and patient treatment. Dr. Sherer is also a senior member of and reviewer for the Joint Commission International (JCI), the global quality and accreditation organization.
A professor of internal medicine specializing in autoimmune diseases, Dr. Sherer has authored or co-authored 150 articles published in a wide range of journals, including the Journal of Clinical Immunology; the European Journal of Immunology; The American Journal of Emergency Medicine; Circulation, the journal of the American Heart Association; Oxford University Press's Human Reproduction; and the Annals of the New York Academy of Sciences.
Said Dr. Sherer, "The Hadassah Medical Organization stands at the pinnacle of Israeli medicine and is one of the leading medical centers in the world. I am happy and proud to join the Hadassah family and thank Director General Yoram Weiss, the board, and its chair, Dalia Itzik, for the trust they have placed in me."
"Yaniv Sherer will significantly strengthen the Hadassah Medical Organization," said Director General Weiss. "His extensive experience, ability to bring wide-ranging projects to fruition, and talent for managing large health systems will be a huge advantage for us. In addition to welcoming Dr. Sherer, I would like to thank Dr. Yinon Buda for his great contribution to Hadassah and his extensive professional accomplishments."