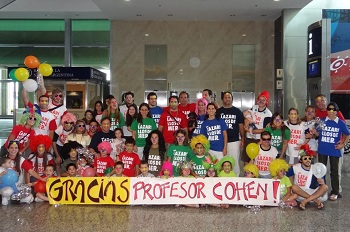 Hadassah received the following letter from a grateful family from Cordova, Argentina.
"My wife was visiting Jerusalem with a catholic group and suffered an aneurism with CVA while in the Church of the Holy Sepulcher. An ambulance carried her to first the Hadassah Hospital on Mount Scopus and then to the Hadassah Hospital in Ein Kerem.
At Hadassah Ein Kerem, Dr. Cohen, (who was originally from Argentina) treated her, using his remarkable skills. What Dr. Cohen and his team did was a miracle. My wife is healthy now.
Last Saturday we returned to Cordoba, Argentina and we were greeted by family and friends.
We want this miracle to be known by the whole world!"
The patient' s daughter added: "Thank you so much Doctor Cohen! Not only are you incredibly competent, but you have proved to be a great person too! Thank you for saving my mom's life and the lives of so many people who have also been saved by your amazing hands"!