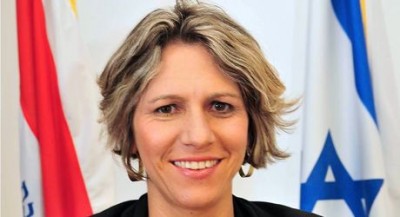 Dr. Osnat Levtzion-Korach, the Director of Hadassah Hospital Mount Scopus since 2012, has been appointed to the position of Director General of Yitzhak Shamir Medical Center (the recently renamed former Assaf Harofeh Medical Center), in Tzrifin. She had previously been Deputy Director of Assaf Harofeh from 2008-2012, before coming to Hadassah Hospital Mount Scopus.
Levtzion-Korach, who becomes the first woman to head a major medical center in Israel, succeeds Dr. Benny Davidson, who is retiring after 15 years at the helm.
Her return to Assaf Harofeh, comes with the full support of Hadassah Medical Organization Director General Zeev Rotstein, who provided her with a warm letter of recommendation.
Hadassah thanks Dr. Levtzion-Korach for her exemplary leadership and outstanding service to Hadassah Hospital Mount Scopus over the past five years and extends best wishes for her continued success. The Hadassah Medical Center leaders and professional staff are the best. They are sought after by other institutions to take on major leadership roles. This is a growth opportunity for a woman who is taking on bigger responsibilities, and we are delighted with her promotion. Dr. Levtzion-Karach will be leaving the Hadassah Medical Center in the near future.
Hadassah International was privileged to benefit from Dr. Levtzion-Karach's expertise and enthusiasm. Whether she was talking to our leaders and donors in Jerusalem, or traveling in Australia for Hadassah International, she always inspired her audience. We wish her every success in her new position.
Please see below two articles published in the Israeli press this week:
http://www.israelhayom.com/site/newsletter_article.php?id=41847
http://www.jpost.com/Business-and-Innovation/Health-and-Science/Hadassah-Scopus-director-to-head-Shamir-Hospital-488279