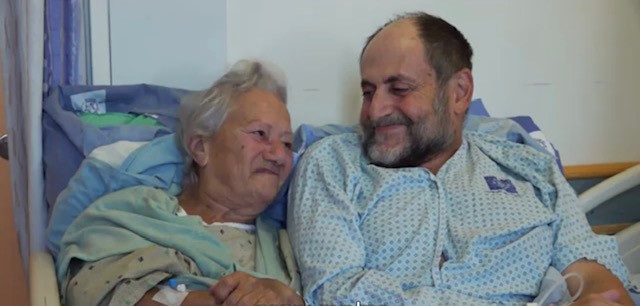 After being wounded and abducted from their home in Kibbutz Nir Yitzhak and unexpectedly released by the terrorists, Moshe and Diana Rosen underwent surgery at Hadassah Mount Scopus and are in good condition.
Dr. Michael Chernovsky, who operated on the couple's hands, said: "An amazing couple came to us with a chilling story and severe gunshot wounds to the palms of their hands.
They underwent orthopedic surgery; their condition is improving day by day. We finished with Ms. Rosen's medical procedures, and Moshe continues to receive treatment at the hospital."
The Rosens, who have lived on Kibbutz Nir Yitzhak for over fifty years, woke up on Saturday morning to the sound of a siren; they quickly realized that this was a much bigger event than the siren routine to which they are accustomed.
"We woke up with a red alert. We are used to this nightmare, but we quickly realized that this was a different event, a giant one. At a certain point, the announcement came that terrorist elements had entered the community; this was undoubtedly shocking.
We heard very loud knocking on the front door, we were in the safe space, and I said to Diana: 'They're inside the house, they're here,'" Moshe describes. "With a considerable effort, we managed to hold the door so they wouldn't open, but they fired into the lock, and the door opened. We were injured after absorbing the burst of shots in our hands while trying to prevent them from entering," he describes painfully.
The terrorist squad that managed to break through the safe room door abducted the couple and began leading them to the Gaza border. Under the control of the terrorists, they summoned the courage to resist the abduction: "We dared to tell the terrorists that we simply are not going to Gaza. We said we were injured, bleeding, and had to go to the hospital," Moshe and Diana said. The conversation continued with the stubbornness of the couple, who repeated that they needed medical attention. The reaction eventually stunned them. The terrorist squad agreed to release Diana and Moshe and told them to return to the fence. The two, shocked and in disbelief, turned around and were sure they would be shot in the back.
After a long day, from the moment they evaded the terrorists, the couple arrived for treatment at Hadassah Mount Scopus Hospital in Jerusalem.
Dr. Michael Chernovsky, a senior physician in the hospital's orthopedic department, describes: "The couple arrived at the hospital with gunshot wounds to their hands. Diana arrived with a bruised hand and a severe finger injury. Moshe arrived in a more serious condition with open fractures crushed all over the bones of the hand. Moshe will continue his medical treatment here while we all surround the two of them with warmth and concern."
Photos by Hadassah spokeswoman