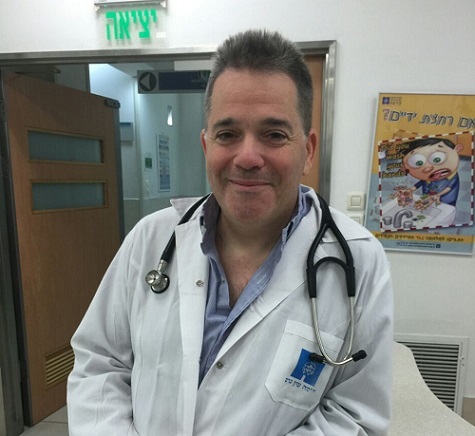 In November 2014, Dr. Oded Poznanski returned to the Hadassah Medical Center as head of the Pediatric Emergency Unit, having started his career at Hadassah as a medical student; on October 26, one day after his 49th birthday, he tragically passed away.
Once he received his medical degree, Dr. Poznanski completed a residency in pediatrics, followed by a fellowship in pediatric emergency medicine. This new specialty was established in Israel by Prof. Yechezlek Weissman and Dr. Poznanski was graduated from the second course in this nascent medical discipline. His vision for Hadassah's emergency unit was to apply his love and high standards to the treatment of children. With utmost patience and full of passion, he slowly transformed his ideas into reality.
Dr. Poznanski introduced triage, one of the pillars in emergency medicine, and set new standards. He also established within the emergency unit the use of an ultrasound device called POCUS (Point of Care Ultrasound), where high fidelity portable and hand held ultrasound systems allow physicians to assess the patient's condition at his bedside and more quickly determine appropriate therapy.
Firmly believing that children should never suffer from pain, Dr. Poznanski initiated light anesthesia in the emergency ward for all painful procedures such as suturing, fixations of fractures, and lumbar punctures. Together with his residents, Dr. Poznanski also entered the field of pediatric trauma treatment. Over time, more and more children were treated by the emergency pediatric team in the trauma unit or were referred directly to the pediatric emergency room to be treated by the staff.
Together with the pediatric emergency room nursing staff and its residents, Dr. Poznanski introduced his credo, namely that every child admitted to the emergency ward at the Hadassah Medical Center be under the care of a pediatrician. Furthermore, each child should have a mother or father figure among the staff that he or she could identify with and talk to at any moment, regardless of the reason for admission.
Despite the challenges of transforming a system that hadn't changed for many years, by being insistent, single minded, and faithful to his ideas, Dr. Poznanski overcame all difficulties. He initiated many meetings with top staff who were involved in the children's care, even the medical clowns. At the end of the day, he was able to declare that he and his colleagues were ushering in a new era of emergency pediatrics.
"Dr. Poznanski's success is evident," says Prof. Eitan Kerem, head of Hadassah's Pediatrics Division. "The Hadassah Pediatric Emergency Department," he explains, "has been transformed into a modern and highly successful service, characteristic of top facilities in Israel; when compared with such departments abroad, it is one of the best."
Since Dr. Poznanski's arrival, the number of referrals to the emergency room has increased. The number of thank you letters from parents and even from children themselves has swelled. This is an uncommon phenomenon in emergency departments due to the relatively short interaction between the patients, families, and staff, Prof. Kerem notes.
Expressing his admiration for his colleague, Prof. Kerem sums up Dr. Poznanski's brief tenure at Hadassah:
"Dr. Poznanski was loved and well respected by anyone who knew him. The face of the pediatric emergency department had become his. With his creation of an atmosphere of comradeship, teamwork, laughter, and lots of good will, children were treated with the highest professional standards and the most modern methods known in today's emergency medicine. Dr. Poznanski had a brilliant career ahead; he had an endless list of plans for advancing both the department and his team. He lived to see his vision take root and some of his dreams come true and for that we are grateful. It is left to us to continue his path, this is his legacy. May his memory be blessed"!