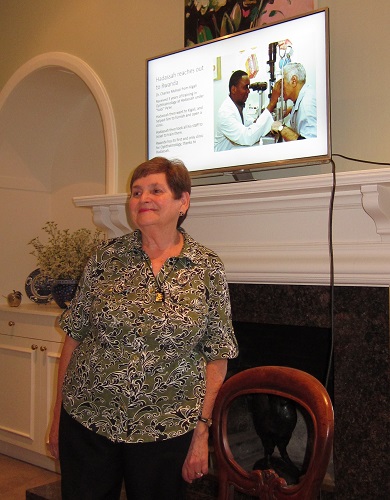 Hadassah New Zealand welcomed Patricia Levinson, Hadassah International Communications Chair and member of the Hadassah International Board of Directors, with open arms.  Jenny Leiman, (President) and Shirley Fiddell, (Treasurer), hosted Patricia for 2 days, showing her (and her husband Lionel) around the beautiful city of Auckland, including the places of Jewish significance.
Patricia concluded her visit with a presentation to the Auckland Unit of Hadassah International.  Over 40 men and women, both Jewish and non-Jewish, came to learn about the work of the Hadassah Medical Center around the world. The event was held at the lovely home of Mary-Lou and Michael Stiassny, overlooking  one of the stunning Auckland bays.
Patricia's presentation included introducing herself via a video about her experiences during the Six Day War. She then spoke about how Hadassah activities impact countries and people around the world, illustrating how Hadassah engages in Tikun Olam through Outreach and Research, and showing that Hadassah is truly much more than a Hospital.
Some of the highlights included:
Preventing blindness worldwide:
Hadassah started with treating eye disease in Israel, and in 2018 celebrates the 100th Anniversary of the Ophthalmology Department's service to Israel and the world. Hadassah has established ophthalmology departments in Africa, and trained Ophthalmologists from Africa, Asia, Latin America and Eastern Europe. Doctors from 38 countries have been trained as a part of Hadassah's unique program. For the past five decades, every Hadassah Ophthalmologist has been required to serve for two years as a doctor in Africa. The head of the department, Professor Yaakov Pe'er recently received a prestigious award from the American Association of Ophthalmology in recognition of his significant contribution to the prevention of blindness worldwide.
Combatting AIDS in Africa:
Starting with an orphanage in Addas Ababa where most of the small children were dying of AIDs, Professor Danny Engelhard has been treating children with AIDS in Africa for many years. His programs have saved the lives of many children in Ethiopia, Kenya and Uganda. Hadassah staff volunteer to spend their vacations working with the children. Prof. Engelhard's "Love, Joy, Art" program brings hope and joy to the children. Prof. Engelhardt's work with International Rescue Missions was recognized by Hadassah, USA.
Hadassah comes to the rescue after an Earthquake in Mexico:
After a 7.1 earthquake devastated Mexico, Hadassah's Prof. Esti Galili Weistub, Founder and Director of the Jerusalem Crisis Intervention Center, was welcomed with open arms in Mexico where she trained Government leaders and personnel, School Teachers, and Medical personnel how to recognize and deal with the trauma and Post Traumatic Stress Disease (PTSD) and other mental health issues, particularly in children.
Research that can change the world:
Combatting radiation sickness: Hadassah basic research on the efficacy of stem cells in treating Radiation Sickness, and subsequent clinical trials, has resulted in a cure for radiation sickness associated with both bone marrow transplants and nuclear explosions or accidents. This treatment recently received FDA approval in the USA.
Stem cell treatment for MS has shown remarkable results. Patricia showed interview on British TV with Mark Lewis, who spoke about the hope and promise of the work that Hadassah is doing on MS in search of the "Miracle Cure".
The evening ended with participants lighting the first Chanukah candle, saying the prayers, and eating the traditional potato pancakes and donuts as well as the other delightful desserts that had been provided for the enjoyment of all.
Reference Articles and Videos:
http://v2023.hadassahinternational.org/telling-personal-story-six-day-war-reunification-jerusalem/
http://v2023.hadassahinternational.org/hadassahs-globally-renowned-ophthalmologist-receives-international-recognition/
http://v2023.hadassahinternational.org/kenyan-hivaids-orphans-sing-hadassah/
http://v2023.hadassahinternational.org/prof-dan-engelhard-a-career-of-global-recue-and-thousands-of-children-saved/
http://v2023.hadassahinternational.org/mexico-embraces-mental-trauma-expertise-offered-hadassah/
http://v2023.hadassahinternational.org/placental-stem-cell-therapy-treat-acute-radiation-syndrome-receives-boost-fda/
http://v2023.hadassahinternational.org/hadassah-pluristem-trial-approved-for-placental-cell-bone-marrow-regeneration-2/
http://v2023.hadassahinternational.org/finding-miracle-cure-ms/