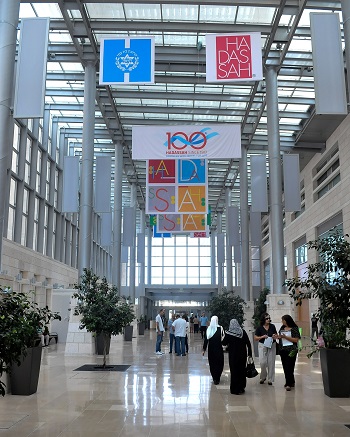 I write this article while sitting in my daughter's hospital room in Hadassah Hospital, located in Jerusalem, Israel. My daughter had a minor procedure, with excellent results.
We read about violence in the Middle East. The screaming headlines can be scary. Can't everyone in the Middle East just get along? In many places there is cooperation. Hadassah Hospital is just one of those places.
Palestinian patients. Muslim Arab Israeli patients. Christian Arab Israeli patients. Druze Israeli patients. Bedouin Israeli patients. All colors and shapes of human beings. Also, there are patients coming from outside of Israel for the advanced medical care at Hadassah. And, oh yes, there are also Jewish Israeli patients: secular, traditional and orthodox.
The political views of this rainbow of humanity span the spectrum: right wing, left wing and centrist. The socio-economics include wealthy people, people of modest means and poor people.
The workforce at the hospital mirrors the same demographics. Muslim surgeons and nurses. Christian surgeons and nurses. Jewish surgeons and nurses. My daughter's surgeon was Jewish, the resident was Arab, and frankly, why categorize?
It is impossible to walk the corridors and label all the people walking by, and that is the point. In this special place, it seems all humanity comes together to heal and be healed. No labels.
Hadassah has been good news about Jerusalem for many years. It is good news about progress among people living in Israel.
The visit to my daughter at Hadassah in Israel was an inspiration to me, reminding me of the goals and ideals that truly matter, and giving me pause to think about what we are doing here in Buffalo.
Hadassah should be a model to copy for all people everywhere, particularly as it fulfills its mission in a region often torn by conflict. In spite of those conflicts, and in the overall grand scheme of events, it serves as an important beacon of hope that the world can be a better place.
Excerpted from an article by David Schiller, Buffalo NY
To read the full article by David Schiller in The Buffalo News, Buffalo, NY USA , please go to https://buffalonews.com/2019/01/22/my-view-israeli-hospital-offers-a-lesson-in-diversity/