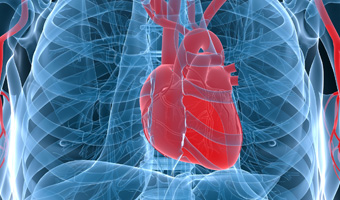 The Hadassah Medical Organization has opened Israel's first Heart Valve Disease Clinic, which is geared toward detecting and treating the most complicated cases of heart valve disease–a growing problem in an aging population.
Until recently, the default treatment for valve disease has been open heart surgery to replace the damaged valve or valves. Currently, these invasive procedures are often superseded by less invasive cardiac catheterizations. In any case, however, efficiently treating valve disease and minimizing life-threatening risk factors such as heart attack remains an ongoing struggle for cardiovascular specialists.
As Prof. Ronen Beeri, head of Hadassah's Cardiovascular Research Center, explains: "A 'cardio team' is needed to treat a patient suffering from heart valve disease. The time from referral to our Heart Institute to receive treatment from the relevant specialist can sometimes take months. Generally, patients with complex issues cannot afford to wait that long. The multidisciplinary cardio team solution at our new Clinic will help streamline the process so that a patient will receive all the necessary echocardiograms and other exams needed to diagnose and begin treatment within a week's time."
With all the medical professionals involved in the patient's care working in synch, this pilot project thus cuts down the time that the patient remains in diagnostic limbo. Further, the centralized team approach within the clinic allows for more accurate assessment with better data collection and enables the specialists to make the best choice regarding personalized treatment–whether it is surgery, catheterization procedures or medical management.
The Clinic currently sees three patients per week. Prof. Beeri relates that he has started getting referrals from primary care physicians and expects the number to increase to about 5-10 patients per week in the coming year. "More than 70 percent of the patients who have been assessed in the clinic thus far," he reports, "have undergone either operations or catheter-based procedures on their valves and all, except one, at Hadassah."
Prof. Beeri adds: "The uniqueness of our multi-talented cardio team and the willingness to meet on a weekly basis to help patients with cardiovascular issues assures that the Heart Institute will continue to provide the highest level of care for its patients."