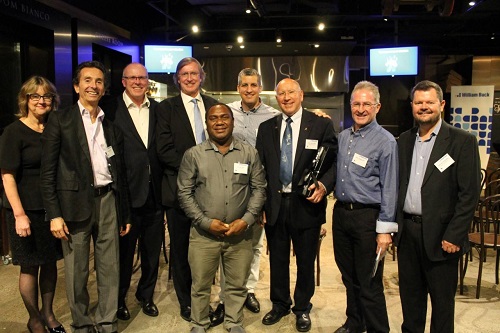 Professor Koby Pe'er, Head of Ophthalmology at Hadassah, visited Australia at the end of March, 2017 to participate in Hadassah Australia events to raise funds for the Peace in Sight project, a joint venture of Hadassah Medical Center, St. John of Jerusalem Eye Hospital and Hadassah Australia.
Prof. Koby Pe'er, who has worked for many years to extend Hadassah help and expertize to several African countries, shared his knowledge of ophthalmologic care in developing countries with Sydney Ophthalmologists at an event sponsored by William Buck, a national Australian accounting company that aspires to make a difference in the lives of people.
When St John of Jerusalem Eye Hospital, in collaboration with Hadassah Medical Center, received €500,000 to establish a genetic research unit to serve the Palestinian communities, Hadassah Australia took this on as a project. Hadassah Australia has held several fundraising meetings, which culminated with this visit by Prof. Koby Pe'er.
To read more about the project please go to http://v2023.hadassahinternational.org/peace-sight-israeli-palestinian-hadassah-australia-collaboration/
Photo Above:  Professor Koby Pe'er with Sydney ophthalmologists.  Prof. Pe'er is third from the right.