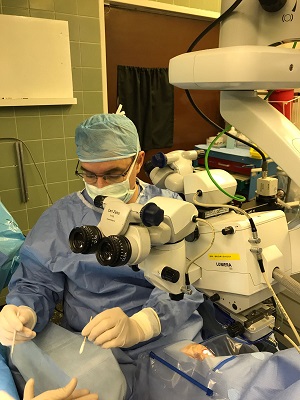 Throughout the past 100 years, the Hadassah Medical Center's Department of Ophthalmology has prioritized a platform that encourages and nurtures the development of new insights into eye diseases and the creation of new therapies, says Prof. Itay Chowers, the department's new director.
As Prof. Chowers explains, Hadassah's Ophthalmology Department, a National Center for Diagnosis of Eye Diseases, is set up to make a global contribution to the specialty. It is, for example, a leader in genetic diagnostics, particularly in the field of such retinal diseases as retinitis pigmentosa (RP) and age-related macular degeneration (AMD), Prof. Chower's area of expertise.  
"AMD, the most common cause of blindness in the developed world, has a strong genetic component," Prof. Chowers notes. His particular interest is investigating how this genetic component contributes to the disease's development and progression. Using genetics, Prof. Chowers explains, "we can understand the underlying causes of the disease and, in the future, hopefully personalize the therapy, as well as diagnose the disease sooner."
Hadassah's ophthalmologists are involved in cutting-edge clinicals trials with some promising treatments for AMD. One example is the treatment of the wet form of AMD, which involves the growth of abnormal blood vessels. Researchers are participating in clinical trials with new pharmaceutical agents that aim to achieve a more prolonged effect so that fewer injections will be necessary. They are also looking into new drugs that can prove effective for patients who have not responded to AMD medicines in use today.
While, of course, patients wish they could avoid injections, Prof. Chowers explains that eye drops to treat AMD are unable to penetrate the eye well enough for sufficient efficacy. There is, however, a project in progress at Hadassah to develop a special type of syringe to reduce discomfort and the risk of complications, as well as to design a personalized treatment interval for the patient.
Research into dry AMD is now focusing on the immune system. Hadassah is involved in two clinical trials with new compounds that seek to block the specific part of the immune system that is thought to cause progression of AMD.
Hadassah is also one of a few centers in the world that is conducting a clinical trial with stem cells that can replace the epithelial layer of the retina which degenerates in AMD. Hadassah's researchers are using stem cells that were developed at Hadassah by Profs. Eyal Banin and Benjamin Reubinoff.
Both this innovative research and Hadassah's state-of-the-art surgery are being conducted in an area of the hospital called "the Round Building," which was built in the 1960s. A renovation of this building has recently been launched.
"We will be able to upgrade our services to patients through the planned renovation," Prof. Chowers says. "We can build something that will sustain us for many years going forward." As he comments, "It is difficult to perform high-tech surgeries in outdated operating rooms." In the expanded renovated space, Hadassah's surgeons will be able to perform more procedures, especially those that require room for the latest imaging equipment, which is essential for sophisticated ophthalmic surgery. In addition, Prof. Chowers relates, the new facilities will enable them to move ahead more quickly with their research.
Also under exploration at Hadassah is Usher Syndrome, a condition that is characterized by RP and hearing loss. It can be caused by any of 11 gene mutations. Dr. Dror Sharon, head of the Genetics Laboratory in the Department of Ophthalmology, and his team are studying the genetic mutations that can result in this combination of hearing loss and visual impairment.
RP, itself, is caused by a single mutation in one gene. There are, however, about 200 different gene mutations that can cause the disease. The FDA recently approved a gene therapy to treat a form of RP caused by one of the mutations. Hadassah is currently collaborating with colleagues in Paris and other medical centers around the world to develop treatment for different types of RP. 
In the subspecialty of pediatric ophthalmology, one of the more serious eye diseases being treated at Hadassah is retinopathy of prematurity. Often this disease results from oxygen incubation of premature babies, because the concentrated oxygen triggers abnormal growth of blood vessels in the eye. The condition is treated successfully with the same injections used for AMD, as well as with lasers. Prof. Chowers reports that Hadassah is "helping our neighbors" in the Palestinian Authority eradicate this disease among the Palestinians.
Hadassah has been assisting developing countries in upgrading their ophthalmology expertise for 60 years, and the efforts are still ongoing. African, South American, Eastern European, and Palestinian physicians come to train at Hadassah and bring the latest ophthalmological techniques back home. "We are very proud of the physicians who have trained in Israel and are now helping their own people with what they have learned," comments Prof. Chowers. "In this sense, we multiply the effect of Hadassah, and this is a source of pride for us all."