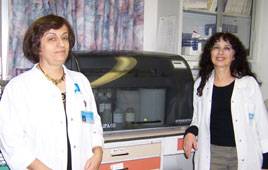 Since 2008, when the Hadassah Medical Center reached out to the Arab population, urging them to register in its Bone Marrow Registry, Dr. Amal Bishara, Outreach Project Director, has traveled to 60 Arab communities and brought in 9,000 registrants, resulting  in six donations of life-saving bone marrow.
Through lectures, publicity campaigns, newspaper articles, and social media, Dr. Bishara, a senior researcher in Hadassah's Tissue Typing Unit who holds a Ph.D. in microbiology and immunology from Hadassah, is removing resistance to bone marrow donation within Arab communities. "A small girl needed a transplant recently and our phone did not stop ringing," she relates. "People want to participate." Dr. Bishara is now turning her attention to university students "because they are committed, young, and healthy." Her overall goal is 50,000 registrants.
While 1.2 million of the world's roughly 400 million ethnic Arabs live in Israel, the sole registry for Arab bone marrow donors is located at Hadassah. About 90 percent of Arab requests for bone marrow transplants are for children with genetic diseases resulting from consanguineous marriages.
Dr. Shoshana Israel, head of Hadassah's Tissue Typing Unit, notes that "donors are really angels." The identity of their recipient is not revealed, she explains, "and yet, Arabs and Jews alike are willing to go through the process just to save the life of someone they don't know."
Hadassah Austria has provided major financial support for this outreach to the Arab population.