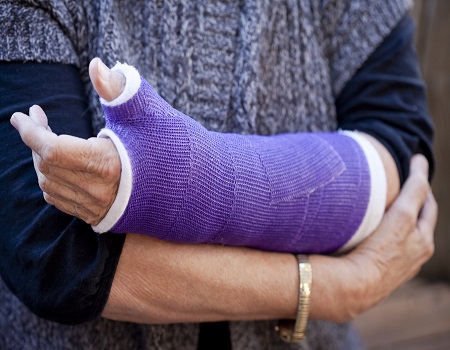 Prof. Rivka Dresner Pollak, head of the Hadassah Medical Center's Department of Endocrinology and Metabolism, together with University of Oxford colleague Prof. Lynne Cox, has received funding for a three-year joint project to study age-related bone fragility in patients with type 1 diabetes who are currently at high risk of bone fracture and premature death, and to develop new treatments. The funding comes from BIRAX, a program that supports cutting-edge joint research between the United Kingdom and Israeli scientists.
Normal bones are constantly renewed through the process of the body breaking down old bone and making new bone. This balancing of breakdown and reformation is important in keeping bones healthy and is controlled by a master regulator cell-type, the osteocyte. In type 1 diabetics, those osteocytes show signs of premature aging, undergoing a process called cell senescence (deterioration with age). Senescent cells behave differently from normal cells; they can break down surrounding tissues and force other cells to become senescent, making the damage worse.
Prof. Pollak and Prof. Cox will examine the role of bone cell senescence in mice with type 1 diabetes. First, they will explore which type of bone cells are senescent and what makes them different from normal bone cells. Then they will identify ways to kill the senescent cells or make them behave more like normal cells, as a first step in developing a new treatment for patients with type 1 diabetes. If successful, the next step will be to see if these drugs can improve bone strength in diabetic mice as they age.
The project will be carried out jointly in Jerusalem and in Oxford. The Israeli team will perform the work in mice as they have extensive expertise in studying bone biology in mice, while the Oxford Cell Senescence team will perform the cell culture work and initial drug discovery and testing.
The research award is part of a £2.8-million (about $3.6-million) grant to seven new joint medical research projects in the field of aging, to be conducted by British and Israeli scientists. BIRAX Aging will look at the effects of aging on human health, and the use of precision medicine and big data in aging research. It will bring together scientists from the Hebrew University of Jerusalem, Hadassah Medical Organization, Tel Aviv University, Tel Aviv Sourasky Medical Center, University of Oxford, University of Cambridge, King's College London, and Queen's University Belfast.
British Ambassador to Israel Neil Wigan comments, "I am excited that seven new projects have been selected for the first call of BIRAX Aging, the latest phase of our flagship science research program. These cutting-edge research collaborations not only position the UK and Israel at the forefront of aging research worldwide but also reaffirm the close connection between British and Israeli academic communities and establishments. Through these meaningful and sustainable collaborations, we can together tackle universal ongoing challenges.
BIRAX was initiated eight years ago by the British Council, British Embassy in Israel, and the UK Science and Innovation Network in collaboration with the Pears Foundation as a founding partner. So far, BIRAX has funded 19 research projects, tackling some of the world's most challenging health conditions and diseases by employing pioneering regenerative medicine and stem cell therapies and using the most advanced technologies. The ground-breaking science has been made possible through the support of a broad family of partners including the Israel Ministry of Science and Technology, the British Heart Foundation, JDRF, MS Society, Parkinson's UK, Alzheimer's Society, the Medical Research Council, The Parasol Foundation Trust, The Rosetrees Trust, Weizmann UK, Clore Foundation Israel, Charles Wolfson Charitable Trust, The Wolfson Foundation, The Maurice and Vivienne Wohl Philanthropic Foundation, The Kahn Foundation, UJIA, Celia and Edward Atkin, The Sheila and Denis Cohen Charitable Trust, The Barbara and Stanley Fink Foundation, and The Glycobiology Institute of Oxford University.
Read more about Prof. Rivka Dresner Pollak's, Type 1 Diabetics and bone weakness here.