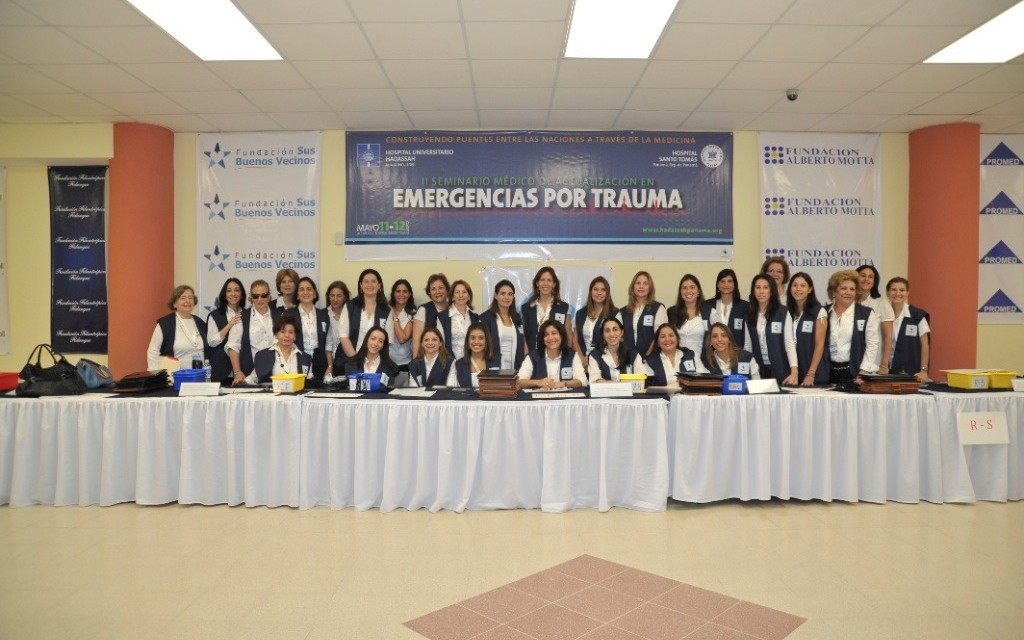 A two-day medical seminar on trauma emergencies, organized by Hadassah Panama, featuring Hadassah Medical Center trauma specialists, and sponsored by local companies and foundations, marked the third stage of Hadassah Panama's ongoing efforts to help Hospital Santo Tomás, Panama's largest public hospital, improve its emergency care to trauma patients.
The seminar, offered free of charge, attracted over 500 Panamanian doctors, nurses, paramedics, and medical students. Hadassah's Doctor Gidon Almogy, Dr. Liat  Appelbaum, and Nurse Pnina Sharon were the key presenters, together with Dr. Jacobo Cohen from Panama. They were interviewed by several television stations, newspapers, and magazines, thus enhancing the image of Israel and Hadassah's outreach programs. The First Lady of Panama, Marta Linares de Martinelli, and Israel's Ambassador to Panama, Menashe Baron, were honorary guests.
In addition to speaking at the seminar, Dr. Appelbaum offered four intensive workshops on the use of ultrasound techniques for victims of trauma. Dr. Almogy and Nurse Sharon continued their hands-on training in Santo Tomás' emergency room, which they began in 2008. One of their main contributions during this trip to Panama was to help improve the working relationship between Santo Tomás and Panama's 911 Ambulance Service.
The Trauma Project, initiated in 2007, is Hadassah Panama's contribution to "building bridges among nations through medicine."
For more information, contact Hadassah Panama at hadassahpanama@gmail.com.