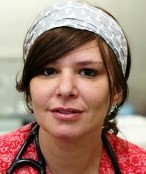 For her research on a new treatment for Type 1 diabetes, a Hadassah University Medical Center physician has received the Kaye Innovation Award from the Hebrew University. The treatment is now undergoing commercial development.
Dr. Chamutal Gur, a senior physician in Hadassah's Internal Medicine Department, as well as a Ph.D. student under the supervision of Prof. Ofer Mandelboim of the Institute for Medical Research Israel-Canada at the Hebrew University Faculty of Medicine, won the award for her research on the role of Natural Killer cells in autoimmune diseases. Her main project focuses on the function of the NKp46 killer receptor in Type 1 diabetes (T1D).
In people with T1D, autoreactive T cells attack the pancreatic beta cells, which produce natural insulin in the body. Natural Killer (NK) cells, which are part of our innate immune system, kill hazardous cells by using an array of cell receptors.  One of the most potent is the NKp46 and Dr. Gur found that it specifically recognizes pancreatic beta cells, which leads to it destroying them.
Dr. Gur, in collaboration with other researchers at Hadassah and Ben-Gurion University, identified this phenomenon in both animal and human cell tests, demonstrating the importance of the NKp46 receptor in the development of diabetes. Concurrently, the research highlights the therapeutic potential of an anti-NKp46 monoclonal antibody (mAb) as a new treatment for T1D. Monoclonal cells are produced from a single ancestral cell by repeated cellular replication and, therefore, can be said to form a single "clone."
Based on the results, a patent was filed through the Hebrew University's Yissum Technology Transfer Company; Hadasit, the commercial arm of Hadassah; and BGN Technologies, the technology transfer company of Ben-Gurion University. The technology was licensed to BioLineRx to develop a blocking anti-NKp46 mAb for the treatment of T1D.