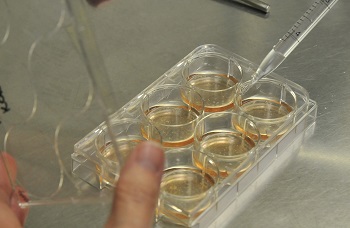 A number of Hadassah Medical Center physician/scientists have been awarded prestigious grants recently.
Dr. Yuval Gielchinsky, Fetal Medicine Specialist and Senior Physician in the Department of Obstetrics and Gynecology, received a 2014 Bill and Melinda Gates Foundation "Grand Challenges Explorations" grant. He will develop a non-invasive approach to determining gestational age of a fetus by analyzing DNA methylation profiles in cells from umbilical cord blood. (DNA methylation is a biochemical process which may stably alter the expression of genes as cells divide and differentiate from embryonic stem cells into specific tissues.)
Calculating gestational age accurately is critical for monitoring the healthy development of a baby. Traditional methods for calculating gestational age require expensive equipment or can prove relatively inaccurate. Dr. Gielchinsky and his team will employ two different approaches to measure DNA methylation in 40 newborns and determine which one yields more accurate results.
The new approach represents the first epigenetic marker in fetal medicine that can be used in a clinical setting. (Epigenesis is the process whereby expression of genetic information is modified on a molecular level without a change to the DNA sequence.)
The 100-million-dollar Grand Challenges Exploration grants program was launched in 2008 "to encourage even bolder and less conventional solutions" to improve the health of people in the developing world.
Prof. Gideon Zamir,
Director of the Laboratory for Surgical Research, received a grant from the Israel Cancer Research Fund. He and his team of experts in cancer biology, along with clinicians who treat cancer patients, have been examining the role of a protein named rps6 in the evolution of both pancreatic and lung cancers.
Using genetically modified mice that harbor mutations that lead to the development of pancreatic cancer and its precursors, his team revealed that when the ability to activate the rp6 protein was blocked, the development of pancreatic cancer was totally abolished. "This finding implies that rp6 may be an important therapeutic target for pancreatic cancer," notes Prof. Zamir.
With this ICRF grant, Prof. Zamir will focus on elucidating the mechanism by which rp6 activation promotes the development of pancreatic and lung cancers.
Prof. Dana Wolf, head of Hadassah's Clinical Virology Unit in the Department of Clinical Microbiology and Infectious Diseases, has been awarded the Landau Prize for the Sciences and the Performing Arts of Mifal Hapais, in the field of virology. She received this honor for her outstanding achievements as a clinician researcher who successfully combines basic science and clinical research. "Her work," the judging committee stated, "represents a unique example of translational research which directly facilitates clinical treatment strategies."
A graduate of the Hadassah-Hebrew University Medical School, Prof. Wolf completed her Internal Medicine residency and a Fellowship in Infectious Diseases at Hadassah. Pursuing a postdoctoral fellowship in virology at the University of California-San Diego, she also received formal training in diagnostic virology at the California Department of Health Services in Berkeley and subsequently worked as a visiting scientist at Stanford University.
Prof. Wolf's main studies have focused on human cytomegalovirus (HCMV) infection. HCMV constitutes a major medical problem in immune-compromised patients, such as cancer patients, transplant recipients, and HIV-infected individuals. HCMV is also the leading cause of congenital infections. Infection of pregnant women with HCMV and its transmission to the fetus is associated with severe birth defects and can lead to a wide spectrum of neurodevelopmental disabilities.
Prof. Wolf's basic studies, employing novel dynamic models of maternal–fetal viral transmission and fetal-brain development, unveil the molecular events mediating the earliest stages of congenital HCMV infection, and provide a mechanistic basis for the development of placental damage and fetal disease. Her findings pave the way for innovations in prenatal screening of pregnant women and prevention of congenital HCMV infection.
In her clinically related studies, Prof. Wolf has revealed the molecular mechanism of HCMV antiviral drug resistance. More recently, her studies have expanded to include the discovery and evaluation of new targets for novel antiviral drugs.
Recognized for her virology work in the international academic and medical communities, Prof. Wolf has been published in leading scientific journals. She collaborates with both clinicians and basic scientists in Israel and around the world. Under her leadership, the Clinical Virology Unit at Hadassah has been recognized as a National World Health Organization Collaboration Center.
Prof. Bernard Lerer, Director of Hadassah's Biological Psychiatry Laboratory and head of the National Knowledge Center for Research on Brain Disorders, established at Hadassah by Israel's Ministry of Science, received the 2014 Inaugural Werner Kalow Responsible Innovation Prize in Global Omics and Personalized Medicine from the Pacific Rim Association for Clinical Pharmacogenetics. The prize is awarded to "an exceptional interdisciplinary scholar who has made highly innovative and enduring contributions to global omics science and personalized medicine, with both vertical and horizontal (transdisciplinary) impacts."
Prof. Lerer's research centers on the molecular genetic basis of major psychiatric disorders, particularly schizophrenia and major depression; psycho-pharmacogenetics; and the neurochemical mechanisms through which antidepressants, mood stabilizers, and electroconvulsive therapy (ECT) make their impact.
Educated at the University of Cape Town, South Africa, Hadassah Hospital and Herzog Hospital in Jerusalem, and the Lafayette Clinic in Detroit, MI, Prof. Lerer served as the Director of the National Institute for Psychobiology in Israel from 1994–2002 and Founding Editor-in-Chief of the International Journal of Neuropsychopharmacology from 1998–2008. Prof. Lerer was also a Founder and past-President of the Israel Society for Biological Psychiatry. He served as Visiting Professor in Cape Town, Copenhagen, Hiroshima, and Miami, FL. and has published widely, with hundreds of articles to his credit, as well as several books.