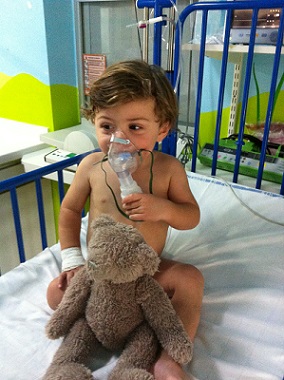 Cystic fibrosis (CF) is an 'apolitical' disease – it affects people irrespective of their age, gender, ethnicity, religion or politics. Yet the search for a cure and the delivery of better treatment options may inadvertently help to change the course of politics in the Middle East.
The simple reality for cystic fibrosis patients in Gaza is that Israel offers them the best hope. And the medical service that offers the best options to expand on that hope is Hadassah Hospital in Jerusalem, the only hospital in the Middle East to be nominated for a Nobel Peace Prize.
One of the biggest obstacles facing these patients has nothing to do with the progression of the incurable genetic disorder but the time spent negotiating checkpoints, another aspect of the political reality of living in this region of the world.
The wait is worth it, even though a solution to address this roadblock is no less critical than finding a cure for a disorder that causes severe damage to the lungs and digestive system.
Hadassah retains some of the world's best CF specialists, notably Professor Eitan Kerem, chairman of pediatrics at Hadassah Hospital and director of the cystic fibrosis clinic at its Mt. Scopus campus.
Professor Kerem has long championed engagement with the Palestinian community, believing that medicine is one of the most effective bridges to achieving peace. This sits very comfortably with the ethos of Hadassah which built its reputation as an institution dedicated to healing, teaching and research without concern for who the patients are. Every other identifying marker is left at the hospital's front door.
With Professor Kerem's urging, and with the support of Hadassah and other agencies like the Peres Center for Peace, Palestinian doctors and medical staff are being trained in Israel so that they can implement what they have learned in Gaza and the West Bank. Much of this is being funded by Project Rozana*.
Many of the Gaza-based health workers are reluctant to publicly trumpet their association with Hadassah, but are no less grateful to the hospital which is changing the health paradigm in the coastal enclave. Make no mistake; the Project Rozana/Hadassah relationship is saving lives and grateful family and friends are well aware of who to thank.
Project Rozana, through Hadassah Australia, provided the funds for one of these doctors to attend a three-day international conference on Pediatric Chronic Diseases, Disability and Human Development in Jerusalem. It also assisted him to participate in a European CF conference in Brussels this month.
Dr Mahmoud Shamali, who practices at Gaza's Eldora Pediatric Hospital, has been visiting Hadassah every fortnight to learn how to relieve the suffering of his young patients. He discusses his caseload with his Israeli counterparts at Hadassah and this professional development is making a significant difference to the children of Gaza. The statistics facing Dr Shamali are sobering. One in 30 Palestinians is a carrier of CF and the disease appears in one in 5,000 live births.
Says Dr Shamali: "If Israelis and Palestinians are patients in the same room, they speak together and regard each other as human. We don't want terror. We need the peace. In all the Arab world, except maybe in the Gulf States, there is no center specializing in CF. Israelis help me and they help our sick children."
Dr Shamali met with members of Hadassah International during the HI annual conference in May. The site of the informal gathering was the Healing Garden at Mt Scopus, another successful Australian-funded project.
While the progress towards peace is continuing, it's often a matter of small steps on the road to the final destination. Professor Kerem was instrumental in setting up a cystic fibrosis clinic at the Al-Durrah children's hospital in Gaza City.
His fingerprints are all over it, although the eminent specialist has never been there.
Professor Kerem still recalls the first time that a group of Gazan medical team members arrived in Israel to train at Hadassah. Their first stop was Netanya, where they spent several weeks undergoing an intensive Hebrew-language course in order to facilitate communications between the Israeli and Palestinian medical teams.
"I regret today that I didn't have a camera on hand to photograph their faces the day they showed up in Israel," he said. "They looked like they were entering the mouth of a dragon. All they knew at the time about Israel is that we were killers and especially liked killing innocent women and children. Suddenly they walk into Hadassah and see that half our patients here are Palestinians. They were in complete shock."
One member of that first group was Dr Mahmoud Shamali. The rest is history.
* Project Rozana is a Hadassah Australia project whose goal is to provide training for Palestinian health workers in order for them to return to build the health capacity of their own communities, and to provide top-up funding to allow critically ill Palestinian children to continue treatment at Hadassah's Pediatric Intensive Care Unit (PICU).