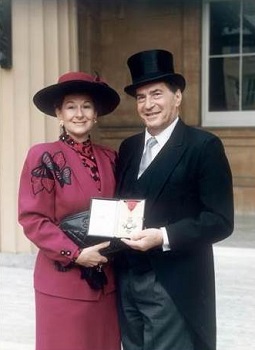 Hadassah is delighted to start the new year with the announcement of a $6,500,000 grant to the Hadassah Medical Organization (HMO) from the Wohl Legacy Foundation in the United Kingdom to create the Wohl Institute for Translational Medical Research–one of the foundation's medicine and arts 50th anniversary celebratory grants, commemorating 50 years of giving.
Prof. Tamar Peretz, Acting Director General of HMO, who traveled to London to participate in the awards ceremony, noted that translational medicine brings the benefits of science back to the patient, with better technology to create improved infrastructure. In contrast to 15 years ago when science was undertaken only in the university setting, with translational medicine, scientific and medical needs can be defined at the individual patient level, then transferred from the patient to the laboratory to find a solution. The research results then flow back to the patient. This process allows a quicker transfer of knowledge and clinical application, resulting in better quality patient care.
The new Wohl Institute for Translational Medical Research at Hadassah will look particularly into how diseases begin and progress, the development of drugs for specific diseases, and how individual patients benefit from different treatments and drug regimens. Physician/researchers will especially focus their work on cancers, multi-genes, Parkinson's, ALS, and other degenerative diseases.
The trustees of The Wohl Legacy Foundation believe that investing in translational medicine is vital to developing the most effective therapies for these complex diseases. This new Institute at Hadassah will bolster the hospital's team of clinicians and biomedical researchers with access to open laboratory space and cutting-edge scientific technology. It is their belief that Hadassah will provide a dramatic stimulus to translational medicine, and will help meet global clinical needs. The award was given to Hadassah because its history is one of scientific development and it continues to generate the highest number of research papers emanating from one institution in Israel.
Maurice Wohl, a rabbi's son, was born and raised in London. His faith and upbringing played a huge part in the evolution of his philanthropy. Prior to Vivienne's death from cancer in 2005 at the age of 59, they decided to establish the Maurice and Vivienne Wohl Philanthropic Foundation as a reflection of their lifetime of philanthropic activity. Maurice died in 2007, at age 90. He was buried in Jerusalem next to his beloved wife.
At the awards ceremony on January 29th, along with the announcements of the grant recipients, the Wohl Lecture was delivered by His Excellency Matthew Gould, Britain's Ambassador to Israel. In his remarks, the Ambassador said: "It is a real honor to give the Wohl lecture in the philanthropy's 50th Anniversary year. I feel passionately that the Jewish community here can have a huge and positive impact on relations between Britain and Israel. Jewish philanthropy tied together with Israeli creativity has achieved amazing things in Israel, and is still doing so. Maurice and Vivienne Wohl were models for giving that makes a difference.