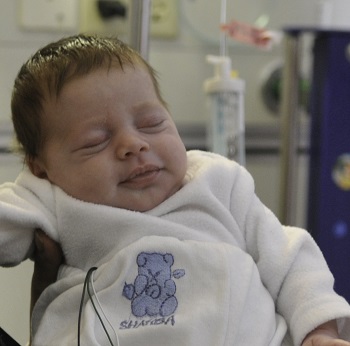 Researchers at the Hadassah Medical Center are investigating the connection between lower levels of the hormone, oxytocin, during pregnancy and the development of autism. The study, led by Dr. David Mankuta, head of Labor and Delivery at Hadassah, in partnership with Prof. Nurit Yirmiya of the Hebrew University, will also examine the link between overexposure to oxytocin during birth and the development of autism.
Called the "love hormone," oxytocin has been found to be present at higher levels in couples who recently became romantically involved. The hormone has also been credited with playing a role in the bonding process between a mother and her newborn infant.
Dr. Mankuta explains: "There are drugs to prevent early contractions which are given routinely in some pregnancies that inhibit the effects of oxytocin. We will examine whether their use might be linked to the development of autism. In addition, we are examining whether the administration of oxytocin to induce labor might be harmful down the road and stimulate autism." It could be that administration of the hormone at this juncture may depress the body's natural secretion of oxytocin, thus increasing the newborn's risk of developing autism later on.
Studies have demonstrated that children with autism have lower levels of oxytocin in their blood—as little as half that of people without autism. One Hadassah study revealed a decline in the immunological components that operate the oxytocin system.
Although autism is not diagnosed in children younger than two or three years old, there are anatomical markers that are more common in children who are later diagnosed with autism.  These include arched palate and a relatively large head circumference.
In addition, certain risk factors for autism have been identified. To help parents who have children with autism to reduce the likelihood of having another child with the disease, Hadassah Hospital-Ein Kerem has opened a perinatology-oriented clinic. This is not a clinic for diagnosing autism or treating children who have autism; rather, parents of an autistic child who want more children come there for consultation. Dr. Mankuta believes that "with certain interventions, the risk for developing autism can be reduced for the future siblings of a child who has already been diagnosed with autism." For example, autism is four times more prevalent in boys than in girls. Parents have the option to have a pre-implantation diagnosis and select female embryos only for implantation. Older fathers have a higher chance of having children with autism, so parents can be encouraged not to wait too long to have another child or to consider freezing the husband's sperm. When the mother becomes pregnant, she can be given treatments such as progesterone to reduce the risk of preterm birth, steroids to accelerate development of the unborn baby's lungs, and aspirin to reduce the risk of preeclampsia—all factors that have been implicated in the development of autism.
For a fuller story on autism and oxytocin, see Dan Even's January 2013 article in Ha'aretz, "The Love Hormone-Autism Connection."