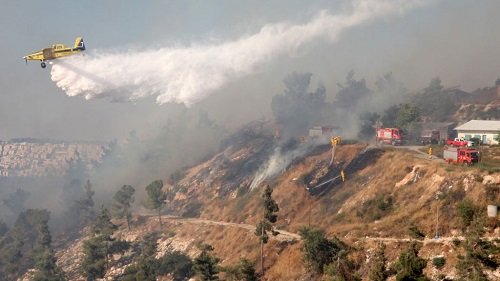 Dear Friends,
As fires rage across Israel, especially in Haifa, our thoughts are with the families, firefighters and emergency responders in harm's way.
The Hadassah Medical Center hospitals at Ein Kerem and Mt. Scopus are playing a crucial role in the emergency response.
The Medical Director at Hadassah Ein Kerem, Dr. Yoram Weiss, tells us that they've prepared medical backup for other hospitals and for the injured.
First responders and emergency teams are working tirelessly with the civilian population, as Israeli police are relentless in their efforts to bring the arsonists responsible to justice. A dozen have already been arrested.
I am appalled by the news of cheers from some social media sectors in the Arab world, just as I am encouraged that Israel has accepted Palestinian Authority firefighting teams.
We are grateful today for all kept safe from the flames of the fires raging in Israel, and to each of the nations — Azerbaijan, Bulgaria, Croatia, Cyprus, Egypt, France, Greece, Italy, Jordan, Palestinian Authority, Romania, Russia, Turkey, Ukraine, and the United States — who came to Israel's aid by sending firefighters and equipment.
We pray for the fires to go out in Israel, and for peace.
Shabbat Shalom,
Ellen Hershkin
National President, Hadassah, The Women's Zionist Organization of America
http://www.timesofisrael.com/fires-break-out-in-hills-near-jerusalem/
Photo:
 Firefighting in the hills near Jerusalem