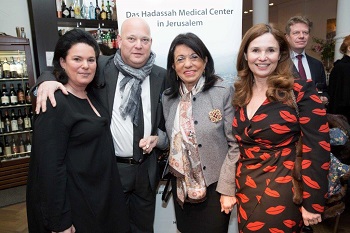 On March 11th 2014 Hadassah Germany invited all its supporters to a Hadassah Donor Celebration.
This special event took place at the well-known Isardoro Italian restaurant, in the center of Munich.
Around 100 donors and VIPs attended this special event. These included Regine Sixt, chairman of the Hadassah Germany board of governors together with many of her board members; Iris Salzberg Chairman of the United Nations and Judith Epstein, Representative for the United Nations, as well as guests from media, politics and art.
The guests were treated to excellent Italian food and music, and were warmly greeted by Mrs. Sarah Lenz, who served as moderator for the evening. Gady Gronich, Director of Hadassah Germany, spoke about the success of the Hadassah Germany Network in Germany over the last three years, and laid out the agenda for 2014 and 2015.  The warm atmosphere made this evening special and afforded Hadassah the opportunity to say "Thank you" to everyone who had supported Hadassah Germany throughout the year.
The Celebration, which included "give –ways", was sponsored by the Portfolio Consulting Group family office with the special participation of our board member Mr. Stefan Haake.