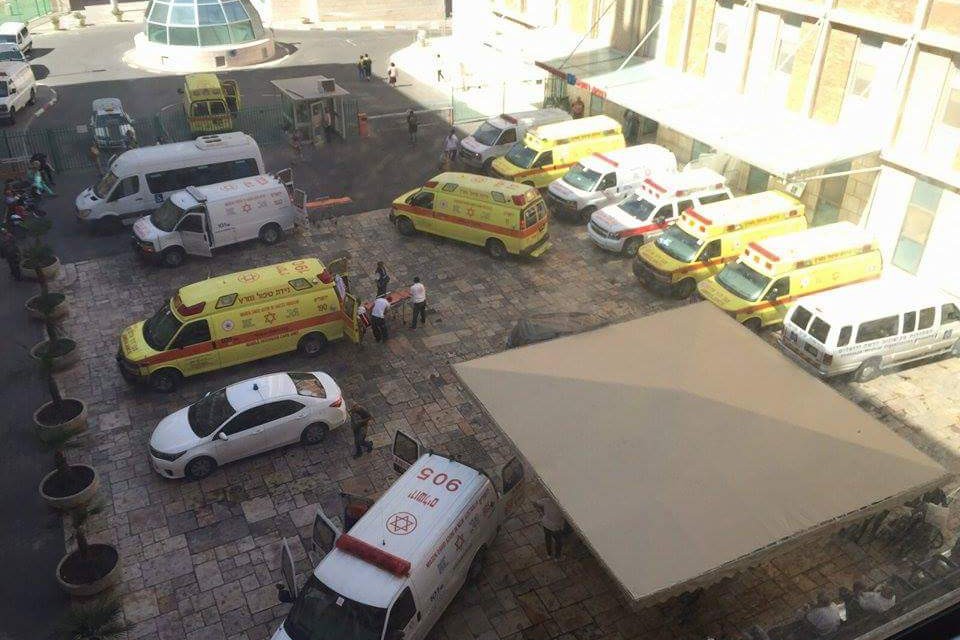 Two weeks of Terrorist Attacks have gripped Jerusalem. Hadassah is saving the lives of both the victims and the perpetrators. That is what we do. We choose life.
We greatly appreciate the dedication and care that the doctors, nurses and other healthcare professionals have given during this difficult time.  The trauma team led by Surgeon and Head of HMO's Shock Trauma Unit Avi Rivkind also includes the trauma surgeons he's trained — Prof Alon Pikarsky, Acting Head of Department of Surgery Ein Kerem, and Dr. Miklosh Bana, Director of Trauma and Acute Care Surgery Unit, and other specialists.
Sept 30, 2015
An injured stone thrower, age 13, is our patient. The Hadassah hospital is doing our best to save him.  His mother and grandmother are with today. His leg may have to be amputated.
Oct 3, 2015
Odel Bennett and her husband Aaron and their two children were walking back home from the Kotel when a terrorist attacked them. Aaron was killed. Odel fought the terrorist, and sustained 11 wounds. She was close to death. The terrorist also shot her 2 1/2 year old son Natan. In an unusual arrangement, they are sharing a room on the surgery ward in the Sarah Wetsman Davidson Hospital Tower. Old City resident Nehemia Lavi, who rushed to help the couple during the attack, was also killed. Read more
October 7, 2015
Hadassah staff is treating Daniel Rosenfeld 36 in the Swartz Center for Emergency Medicine this morning. Ten feet away the staff is treating the woman terrorist aged 18 who stabbed him. Rosenfeld managed to draw his gun and shoot her. Read more
Oct. 10, 2015
Three police offers were injured when a terror attack broke out near Damascus Gate in the Old City by 19 year-old Muhammad Ali.
Two ultra-Orthodox men were injured when stabbed by a 16-year-old Palestinian terrorist in central Jerusalem. The 16-year-old terrorist was shot and killed at the scene.
Oct. 11, 2015
A 25-year-old man was evacuated to Hadassah Hospital on Mount Scopus after he endured facial injuries due to stones thrown by a Palestinian terrorist at the A-zaim checkpoint near Jerusalem.
A policeman was lightly injured when a Palestinian woman detonated a bomb in her car near Ma'ale Adumim. The woman terrorist was severely injured and was evacuated to Hadassah Hospital Ein Kerem.
An IDF soldier was evacuated to Hadassah Hospital Ein Kerem after being wounded by a marble shot from a sling-shot by a Palestinian protester outside of the West Bank settlement Kiryat Arba.
October 12, 2015
There were 4 terrorist attacks in Jerusalem. Hadassah is trying to save the lives of both the victims and their assailants.
A male Palestinian terrorist was killed in Jerusalem's Old City this morning after trying to stab a police officer.
An Arab woman was shot after she stabbed a Border Police officer near the capital's police headquarters. She is being treated at Hadassah Ein Kerem. The border policeman who was stabbed and lightly wounded is also being treated at Hadassah.
A 13-year-old Jewish boy from Pisgat Ze'ev is in critical condition at Hadassah after being stabbed nearly a dozen times by two teenage Palestinian terrorists in Jerusalem's Pisgat Ze'ev neighborhood, marking the third terrorist attack in the capital in six hours. (He has improved slightly, but is still in danger). The attack took place when a 13-year-old Palestinian and a 17-year-old Palestinian armed with knives attacked the Jewish boy while he was riding his bicycle. Both terrorists stabbed the boy many times all over his body before a driver neutralized the 13-year-old terrorist by ramming his car into him. The other assailant then stabbed a 25-year-old Jewish man nearby before being shot dead by police. The terrorist and both victims were taken to Hadassah. (The 25-year old man from Pisgat Zev who was stabbed is now is stable and in moderate condition).
A terrorist stabbed a soldier and tried to grab his gun on a bus near the entrance of Jerusalem. The terrorist was killed and the soldier, 19,  taken to Hadassah Hospital Ein Kerem where he is in moderate condition.
Aaron Heller, the AP reporter, came to Hadassah today to do the story of a hospital treating terrorists and terror victims. It was hard going, because tension broke out among the families of the patients. The level of tension is far greater than it has been for a long time.
October 13, 2015
Richard Laken, 76, was going for a doctor's appointment. He'd thought of walking from his home in East Talpiot, but because of the situation was nervous about crossing the Talpiot Tayelet. So he took bus 78. A pair of terrorists got on, with a firearm and knives, and he was stabled in the chest. He's in very serious condition, and we pray for his recovery.
Three of the four patients from the bus in the Hadassah Trauma Center have gone to surgery. The fourth, one of the terrorists from the bus attack, was declared dead on arrival.
Read the report from Fox News http://www.foxnews.com/world/2015/10/13/amid-violence-jerusalem-hadassah-hospital-treats-both-jews-and-arabs-victims/
Read the report from Haaretz ( Associated Press) http://www.haaretz.com/news/diplomacy-defense/1.680218
Hadassah Saves Lives!