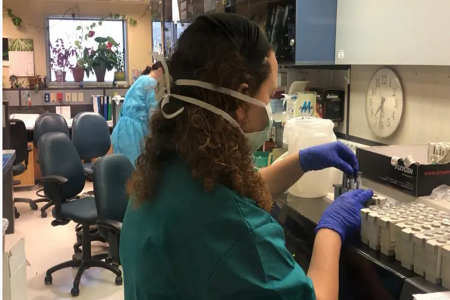 The Hadassah Medical Organization (HMO), together with the Israeli biopharmaceutical firm Kamada, is currently testing a "passive vaccine" that is showing promising therapeutic results in patients with COVID-19. The first patients treated have already been released from the hospital and have returned home.
Patients with any viral disease develop antibodies in their plasma that help fight off the disease. Hadassah's Blood Bank collected plasma from recovered COVID-19 patients and transferred that plasma to Kamada, which used it to produce the appropriate antibodies, what it calls its "anti-SARS-CoV-2 plasma-derived immunoglobulin (IgG) product."
According to HMO Director-General Prof. Zeev Rotstein, the treatment is being given to seriously ill COVID-19 patients. Potentially, it could also stop the progression of disease in high-risk patients who contract the virus.
What makes passive immunization different from an active vaccine is that a passive vaccine uses antibodies from recovered patients while an active vaccine contains a dead or weakened version of an actual virus.
To read more, click here.