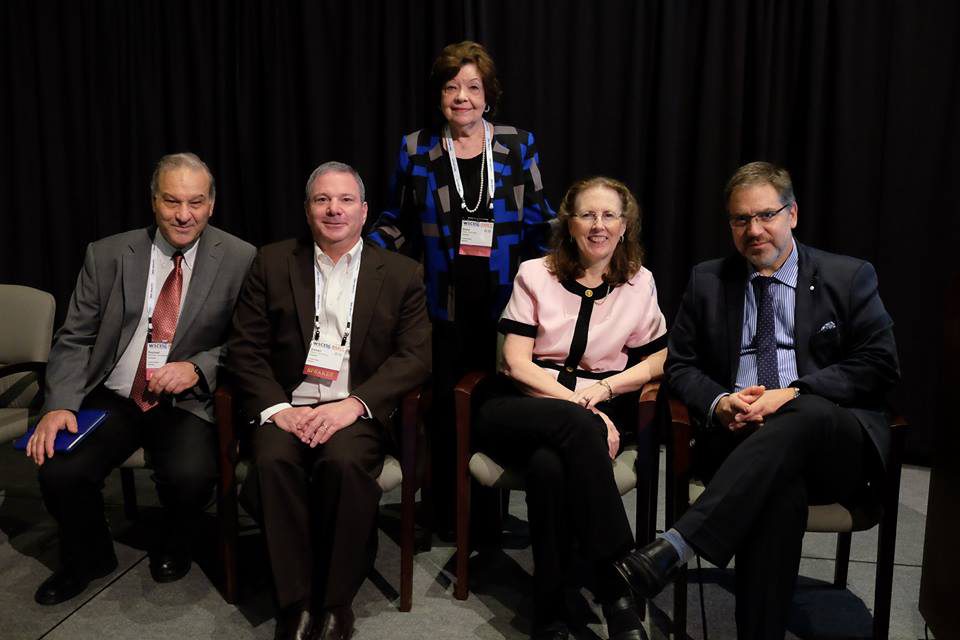 Left to right: Prof. Raphael Gorodetsky, head of Hadassah's Biotechnology and Radiobiology Laboratory in the Sharett Institute of Oncology; Stewart Greenberg, Hadassah melanoma patient; Diane Issenberg, Hadassah Chair of Development; Malia Litman, multiple sclerosis patient; and Hadassah Senior Neurologist Prof. Dimitrios Karussis at the World Stem Cell Summit in Florida.
At the recent 12th Annual World Stem Cell Summit in West Palm Beach Florida, Hadassah Medical Organization Senior Neurologist Prof. Dimitrios Karussis and his patient, Malia Litman, shared their personal, groundbreaking stem cell success stories in treating neurodegenerative diseases, such as multiple sclerosis (MS) and amyotrophic lateral sclerosis (ALS). Prof. Raphael Gorodetsky, PhD, head of Hadassah's Biotechnology and Radiobiology Laboratory at the Sharett Institute of Oncology, gave a presentation about his scientific research aimed at developing new techniques for cell-based therapies, which has led to a placental stem cell product to treat acute radiation syndrome.
Prof. Karussis reported on his latest ALS clinical trial in which 87 percent of the patients responded positively to the treatment–either in terms of respiratory function or general motor ability, with no serious adverse effects. "I believe we are in the early stages of something new and revolutionary with this harvested stem cell infusion therapy," related Prof. Karussis. "While this is absolutely by no means a cure for these neurodegenerative diseases, it is the first step in a long process which we anticipate will lead to a cure."
Ms. Litman explained how just three stem cell treatments brought her tremendous physical improvement. For example, she said, she was able to host 31 people for Thanksgiving, including doing cooking and baking herself, whereas before she was treated, she would have to take a nap after exerting any energy–even doing something small like taking a shower. She is now a leading stem cell research activist.
In his presentation, "Innovative Cell Therapies and Translational Studies," Prof. Gorodetsky reported that "some of our recently innovative techniques have already been proven and are being used by Pluristem Therapeutics (a leading Israeli cell therapy company) in Food and Drug Administration-approved clinical studies worldwide." The product, entitled PLX-R18 and developed by Pluristem based on Prof. Gorodetsky's basic science research, is a placental-cell based therapy to mitigate acute radiation syndrome (ARS) as well as enhance bone marrow regeneration following a bone marrow transplant.
Hundreds of Hadassah members from around the Tri-County area attended to hear about Hadassah's latest research firsthand and to support Hadassah, which was an educational partner for the Summit. The annual event is a project of the nonprofit Regenerative Medicine Foundation, whose mission is "to accelerate regenerative medicine to improve health and deliver cures."
During Hadassah's special private Briefing Session, Stewart Greenberg, a stage-four melanoma patient of Dr. Michal Lotem, head of Hadassah's Center for Melanoma and Cancer Immunotherapy, spoke about his acceptance into a personally tailored melanoma vaccine clinical trial. The immunotherapy treatments, he related, gave him a new lease on life when other doctors could offer him no hope.
Offering his audience a dose of optimism, Prof. Karussis, in explaining his stem cell protocol, said: "I see this treatment as being one of the major future tools to treat degenerative diseases of the brain and spinal cord. I am confident that within the next three to five years, we may provide a treatment to patients that can stop the progression of these diseases and induce some kind of recovery."
Read more about Malia and Prof. Karussis and how Hadassah is leading the way in stem cell research.