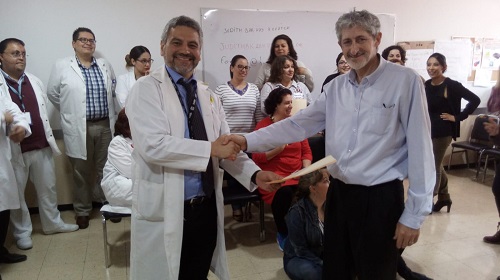 Dr. Fortunato Benarroch recently traveled to Mexico City to teach and work with Health professionals who deal with ADHD in different Mexican institutions. Dr. Benarroch is the Director of the Center for Pediatric Traumatic Stress at the Herman Dana Division of Child and Adolescent Psychiatry, at the Hadassah Medical Center in Jerusalem. (In the photo above, Dr. Benarroch is thanked by participants in one of the courses he presented).
Dr.  Benarroch spent two days in Mexico City working with the Mexican National Anti-Kidnapping Coordination – (CONASE), which coordinates the efforts and actions of the federal government and state governments aimed at combating the crime of kidnapping efficiently, quickly and directly.
He then spent three days lecturing at the Children's Hospital of the Siglo XXI National Medical Center, which is administered by the Mexican Institute of Social Security. As a specialist in Post-Traumatic Stress in children and adolescents, Dr Benarroch trained the top level Mexican psychologists and psychiatrists in the treatment of pediatric and adolescent victims of traumatic events. This training included several techniques to deal with trauma experienced by children.
Dr. Benarroch focused on teaching models for psychological intervention in emergency situations and first aid techniques after traumatic events at both CONASE and at the Children's hospital. He also dealt with the issue of secondary trauma (helping the helpers, professional burn out, etc.).
The participants from CONASE and the hospital psychiatrists and psychologists felt that they had learned a lot, and that these workshops helped them to plan and structure interventions in situations where, until now, they had felt impotent and had been improvising and without fully understanding what the correct response should be.
Dr. Benarroch also gave a lecture at the Hebraica University on ADHD in a webinar format to the psychologists of the Jewish Network in Mexico City. His subject was "Attention Deficit Hyperactivity Disorder: What Can Be Hidden Behind It." This webinar in Spanish can be viewed at https://youtu.be/4e6mZif3qXs
Dr. Benarroch was interviewed by the Mexican Spanish Jewish Press.  Please see https://www.enlacejudio.com/2018/08/25/la-experiencia-por-atentados-terroristas-se-comparte-con-tierra-de-terremotos-medico-del-hospital-hadassah-visita-mexico
During his visit to Mexico Dr. Benarroch was hosted by members of the Jewish community.
This visit to Mexico follows on the visit of Hadassah's Prof. Esti Galili, Director of the Jerusalem Crisis Intervention Center, in October 2017 in response to the terrible earth quake that affected Mexico City.  At that time Dr. Galili spent 10 days working with the Mexican Health Ministry, the National Institute of Psychiatry, the children hospital, schools and PTA, as well as Cadena, which is the Jewish network that responds to mass-casualty events.