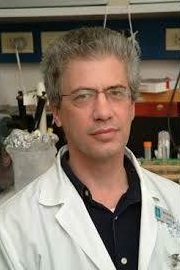 Prof. Tamir Ben-Hur, the Hadassah Medical Center's world-renowned neurologist and stem cell research specialist, gave a presentation entitled "Stem Cells: Protectors of the Brain" at the 2014 TEDx conference, held at the Peres Center for Peace in Jaffa, Israel.
In this compelling video of his speech, Prof. Ben-Hur, head of Hadassah's Neurology Department, paints a picture of the vast potential of stem cells to help the brain regenerate itself and thereby combat and cure diseases, such as multiple sclerosis and amyotrophic lateral sclerosis (ALS).
Prof. Ben-Hur poses an analogy between a burning forest and an injured human brain. Just as new trees can be planted once water puts out the fire, he says, so, too, transplantation of stem cells can lead to regeneration of brain cells.
Click on the video below to see his illuminating talk.
TED is a nonprofit organization devoted to "ideas worth spreading." Started as a four-day conference in California 25 years ago, TED has grown to support world-changing ideas through multiple initiatives. TEDx events are independently organized events, based on the TED mission and model.