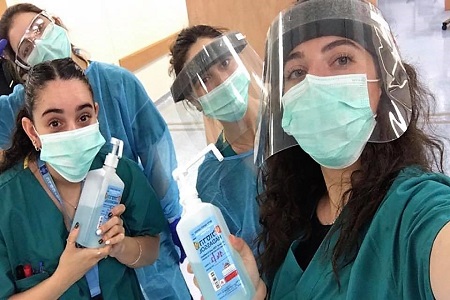 A study of the Hadassah Medical Organization's success in keeping its health care workers (HCWs) safe and minimizing the need to have them stay home has revealed that "after the introduction of universal masking, none of the exposed HCWs developed COVID-19."
Each time an HCW was exposed to a newly diagnosed COVID-19 patient or a newly diagnosed co-worker, Hadassah's Investigations Working Group, comprised of physicians and nurses, performed an epidemiological investigation. Those HCWs who came in close contact with these COVID-19 positive individuals were told not to come to work. In parallel, masks were mandated universally and HCWs were screened regularly to ensure they were COVID-19 negative.
The group analyzed the number of HCWs who were sent home each week because of their contact with someone who had COVID-19. The investigators also determined who among these HCWs subsequently contracted the disease.
During the 51 investigations conducted from March through May 2020, the group interviewed 1,095 HCWs and sent home 400 (37 percent). Most of these suspensions (63 percent) occurred during the first two weeks of the COVID-19 outbreak. The median duration of exposure was 30 minutes. Only five of the 400 (1.3 percent) developed the disease, all in the first two weeks of the epidemic.
The Investigations Working Group concluded, "Relatively short exposures of HCWs, even if only either the worker or the patient wore a mask, probably poses a very low risk for infection." Therefore, rather than send home the workers who were exposed to COVID-19, the group noted, it is possible to follow these HCWs closely instead and test them for COVID-19 repeatedly.
The study findings appear in Open Forum Infectious Diseases, which "focuses on the intersection of biomedical science and clinical practice, with an emphasis on knowledge that could improve patient care globally."