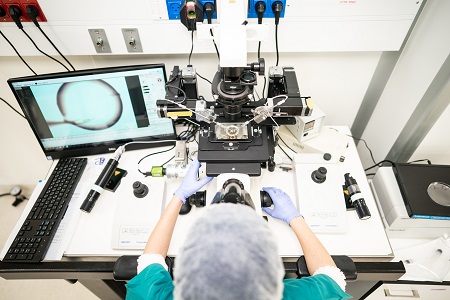 In the first study of its kind, a Hadassah Medical Organization physician has found that the Pfizer COVID-19 vaccine does not damage the quality or number of a man's sperm.
"Knowing that some men who want to have children have been staying away from the vaccine because of rumors that it could harm their fertility, it made sense to see what the true picture was," says Dr. Myriam Safrai, the Hadassah obstetrician/gynecologist who conducted the study.
Dr. Safrai examined the volume, concentration, and movement of the sperm of 60 men in Hadassah's in vitro fertilization program before and after receiving the COVID-19 vaccination. She found that their sperm count remained unchanged, as did the sperm's other attributes.
The average age of those participating in the study was 35.
Since COVID-19 damages sperm in 25 to 30 percent of cases, Dr. Safrai believes that men who want to have children should get the COVID-19 vaccine.
"I call on those yet to be vaccinated to do so," Dr. Safrai says. "Not only will you be protecting yourself from COVID-19 but you will also be avoiding potential damage to your fertility."
Read more in the Times of Israel article.
Picture caption: A lab in the Hadassah Ein Kerem IVF suite