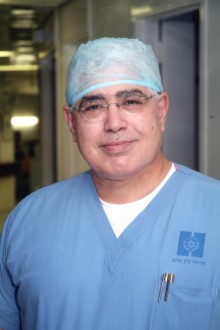 Prof. Ahmed Eid, head of the Department of General Surgery at Hadassah Hospital-Mount Scopus, performed life-saving surgery on Chen Schwartz, the Israeli soldier who was shot twice at close range by a terrorist on a motor scooter in Jerusalem.
The surgery was difficult because of the tremendous damage to his body and massive bleeding, Prof. Eid reported. But, he noted: "We used everything we could to save this man. When you are in such a situation at Hadassah, you know that you will never give up until you find a way to save him."
Surgical Nurse Reuven Gelfond, who headed the Israel Defense Forces' field hospitals in Haiti and the Philippines, echoed Prof. Eid's sentiments. The Mt. Scopus health care team, she said, is determined to do the near impossible to save a life.
Although the surgery has alleviated the threat to Chen's life, he will need further surgery to improve his condition as soon as he is strong enough. Chen, age 19, is now recovering in Hadassah's Intensive Care Unit, where his parents, sister, and friends are taking turns visiting him.
"The care here is so wonderful," said his mother, Miri Schwartz. "The staff is so embracing. Please pass on my thanks to the Hadassah women and supporters abroad who have created this wonderful hospital. We have no illusions. Without them, our son would have died. He's a strong boy and with God's help and Hadassah's, he's going to make it."
Please see an interview with Prof. Eid. and an article in the Times of Israel.

Update:  Sunday morning, Miri and Meir Schwartz, Chen's parents, were looking cheerful.  "We had a wonderful Shabbat," said Miri. "Chen recognized us!"
Prof. Ahmed Eid, his surgeon, added: "Chen was so badly injured, with massive bleeding, that we were very gratified to be able to save him. He's doing so much better–awake and talking. He has a way to go, but we're all cautiously optimistic."