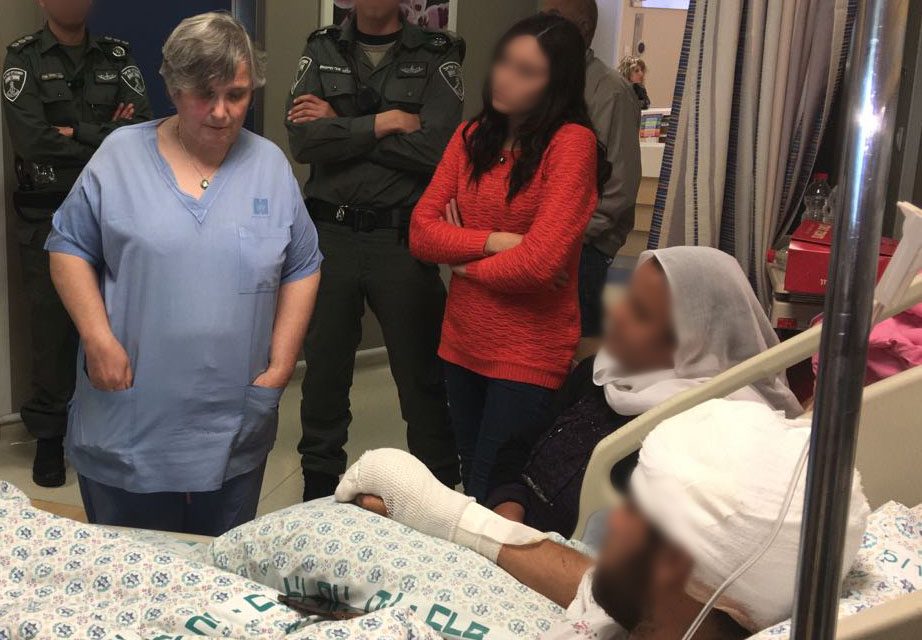 It was cold and dark outside the Lions Gate of the Old City at 4:00 a.m. on March 13th, the day on which Jerusalem citizens were celebrating the Jewish holiday of Purim.
Suddenly a terrorist with a butcher knife leapt inside the narrow booth where two borders guards were standing watch and stabbed them. After a struggle, one of the officers fought his way outside the booth and shot the terrorist. Bleeding from their heads and hands, the guards were rushed to the Judy and Sidney Swartz Center for Emergency Medicine at Hadassah Hospital Ein Kerem.
The plastic surgeon on night duty, Dr. Stav Sarna-Cahan, called Hand Surgeon Dr. Carole Pidhorz. "Immediately after the neurosurgeons assured us that we could operate safely, we began working on the officer whose injury was the more serious of the two," says Dr. Pidhorz. "His left hand had six torn ligaments and three open fractures. This is a rare injury for a hand that has been stabbed with a knife and resembles more an injury from hacking with a hatchet. This informs us of the power of the attack."
For two hours, Dr. Pidhorz and her team repaired the breaks and the tears. "Fortunately, there was no significant nerve involvement. Both soldiers will need a long rehabilitation, but I am convinced that with willpower and support, their hands will return to full use." The second border policeman suffered from a torn ligament in his right hand.
"I spoke with the fathers of the soldiers," relates Dr. Pidhorz. "They understood how the situation was so close, not only to amputation, but to their sons dying of these wounds. The force of the stabbing was so great, but now, the recovery is, shall we say, in their own hands."
Dr. Pidhorz, who studied medicine at Angers (France) University School of Medicine, has been at Hadassah Hospital since 1995 and today heads the Center for Hand and Microvascular Surgery in Hadassah's Department of Plastic Surgery. She has vast experience in treating complex hand injuries.