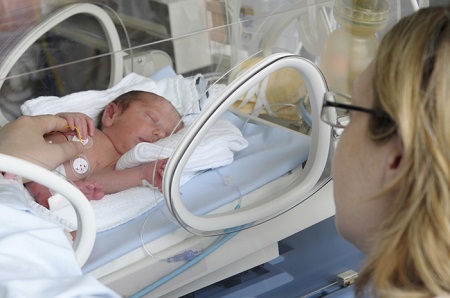 "Malka," 34, was expecting her fifth child during her medical residency near Tel Aviv. At the 30 weeks' ultrasound, her doctor's face fell. "He kept saying, 'I'm sorry, I'm sorry,' " said Malka. "He told me there wasn't any hope. My baby's heart defect was too serious."
Desperate, Malka and her husband sought a second opinion at Hadassah Hospital Ein Kerem. The cardiologist did a fetal echocardiogram and began explaining the treatments and surgeries that would be necessary immediately after the birth. "When he talked about treatment, I started crying," said Malka. "At Hadassah, the doctor was planning my 'hopeless' baby's future." The baby was diagnosed with double inlet left ventricle (DILV) defect, in which both the right and left atria of the heart feed into the left ventricle because the right ventricle is underdeveloped. Without expert intervention DILV is fatal.
Baby Ruth was born at Hadassah Hospital Ein Kerem weighing almost 10 lbs. "Everything about her birth was more magical because she wasn't supposed to be born," said Malka. She had complications that needed to be taken care of. A week after birth, Prof. Eldad Erez, head of Pediatric Cardiothoracic Surgery, placed a temporary shunt in Ruth's heart, but it became blocked and the baby needed angiography.
Heart surgery is usually postponed until the infant is six months old, but baby Ruth couldn't wait. At four months, Prof. Erez performed the surgery, rerouting the blood to go directly to Ruth's lungs. The day after her baby's operation, Malka took and passed her medical exam. "One of the questions on the exam was about congenital heart defects," said Malka. "Ruth taught me the answer to that one."
Today, Ruth, 5, is in kindergarten. She recently underwent the last of her heart repairs. "The Hadassah doctors are my role models," said Malka. "Their amazing professionalism, together with calm demeanor and humor, got us through this challenge. They found solutions to every one of Ruth's huge challenges. Thank you, Hadassah, for giving our family this rambunctious, miracle child."