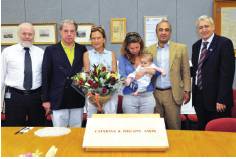 In the presence of Hadassah Medical Center Director General Prof. Shlomo Mor-Yosef and Associate Director General Dr. Yair Birnbaum, Hadassah Switzerland-Geneva held an elegant fundraising dinner and auction at the home of Mr. and Mrs. Philippe Amon, major supporters of the Sarah Wetsman Davidson Tower Campaign, who had recently visited the Hadassah Medical Center.
Following warm greetings from Hadassah Switzerland President Ellen Frick-Delman, keynote speaker HE Yitzhak Levanon, Ambassador of Israel to the United Nations Mission in Geneva, spoke glowingly about the historic relationship between the Edmond de Rothschild family and Hadassah. The dinner had been sponsored by the Rothschild Bank in Geneva. Among the other distinguished guests was Dr. Sylvie Chokron of the Rothschild Ophthamological Foundation in Paris, who is collaborating on a research project with the Hadassah Medical Center's Department of Neurology, thanks to the generous support of the Benjamin de Rothschild Foundations in Geneva and Caesaria.
Following the presentations, President of Christie's-Switzerland, Mr. Francois Curiel, conducted an auction, which included sculptures by an Israeli artist and a local Geneva sculptor. The evening closed with entertainment by Israeli singer, Naama, who came to Geneva especially for this event, which raised 250,000 Swiss francs for the Hadassah Medical Center.