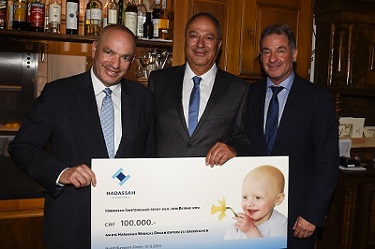 Hadassah Switzerland held an elegant private dinner at the Cantinetta Antinori in Zurich on June 1, 2015.
Among the prestigious guests were some of Switzerland's most successful Entrepreneurs and His Excellency, Ambassador of the State of Israel in Switzerland, Yigal Caspi.
The guest speaker for the event was Prof. Eitan Kerem, Head of the Department of Pediatrics at the Hadassah Medical Center. Prof. Kerem, spoke about "Hadassah – a Century of Caring", describing the history of Hadassah and his daily work as a pediatrician dealing with children suffering from chronic diseases and long stays at the hospital.
He described to the rapt audience how he has developed a new paradigm at Hadassah, where instead of treating an illness, Hadassah treats the patient. The family no longer has the frustrating experience of multiple appointments and having to go to different departments (who frequently do not communicate with one another) to deal with different aspects of their child's disease.
At Hadassah, Prof. Kerem and his team focus on the whole child during an appointment, with the different departments of the hospital coming together to interact with and inform each other about the patient, so that the diagnosis is comprehensive and the healing process accelerated.
Prof. Kerem also spoke about how Hadassah creates an environment for peace. There is no difference in the way that Hadassah treats Arab and Jewish children and their families, and Palestinian and Israeli doctors work hand in hand. Hadassah has even helped to create a clinic in Gaza to treat Cystic Fibrosis.
Attendees were thrilled to witnessed Hadassah Switzerland handing over a check for CHF100,000 to benefit the Hadassah Medical Center.