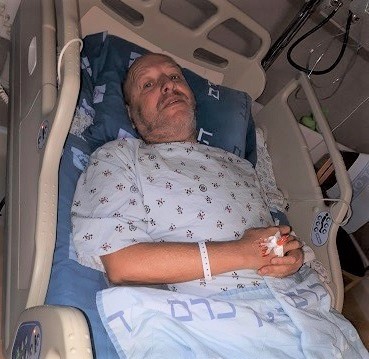 Amir Shvartz, a 57-year-old bus driver from Tel Aviv, spent a year planning a month-long trip abroad with his two closest friends. The intention was to spend three weeks in Thailand and a week in Ethiopia.
Forty-eight hours after arriving, they sailed to the islands surrounding Phuket, Thailand's beach resort. Despite the country's reputation for wonderful weather, the water was choppy and the wind was strong. Whenever the speedboat jumped a wave, Shvartz was jerked from his seat at the front of the boat. A tall wave knocked him into the boat's electricity box. It hurt.
"I hoped that with some rest, my back would improve," he said. "A trip to the hospital wasn't in our travel plans."
The travelers kept on going. After Phuket, Shvartz and his friends flew to Ko Samui, Thailand's second largest island. "When I couldn't sit or stand without extreme pain," related Shvartz, "I did go to a hospital. They gave me a shot for pain. It didn't help, so I went back. That's when they found one broken vertebra." He needed surgery.
Luckily, Shvartz had insurance. The insurance company consulted Hadassah Medical Center spine specialist Dr. Josh Schroeder.
Shvartz's Israeli insurance company agreed to fly one of Thailand's top spine surgeons to the Ko Samui island to operate on him. "Dr. Schroeder assured me that the Thai surgeon understood the problem," Shvartz recalled, "but he explained that they used an older method of repair in Thailand. It would require weeks of hospitalization, while the newer technique used at Hadassah is non-invasive and would enable me to leave the hospital a few days later."
"It's always difficult to take surgical responsibility for a patient located thousands of miles away," said Dr. Schroeder. "I spoke to Amir on the phone to gauge what he wanted. He was adamant that he preferred to be operated on in Israel."
Shvartz landed in Israel on a Friday morning. Less than four hours later he was in a Hadassah Hospital Ein Kerem operating room in the Sarah Wetsman Davidson Hospital Tower. There, the orthopedic surgeons discovered that Shvartz had broken not one but four different vertebrae in his spine. The doctors all agreed to put in extra hours on Friday afternoon, typically the start of the Israeli weekend, to help Shvartz. The following day Shvartz was up and walking slowly, but without pain.
"He was millimeters away from being paralyzed," said Dr. Schroeder. "Whenever someone is hurt in a third-world country, he needs a lot of luck to walk away from the injury and return to how he was before. Amir was lucky. Thanks to the surgical procedure he had at Hadassah, he is expected to make a full recovery."
"I had no idea that I could have been paralyzed," said Shvartz, as he left the hospital. "I was lucky that my insurance company consulted Dr. Schroeder. Thank you, Hadassah."