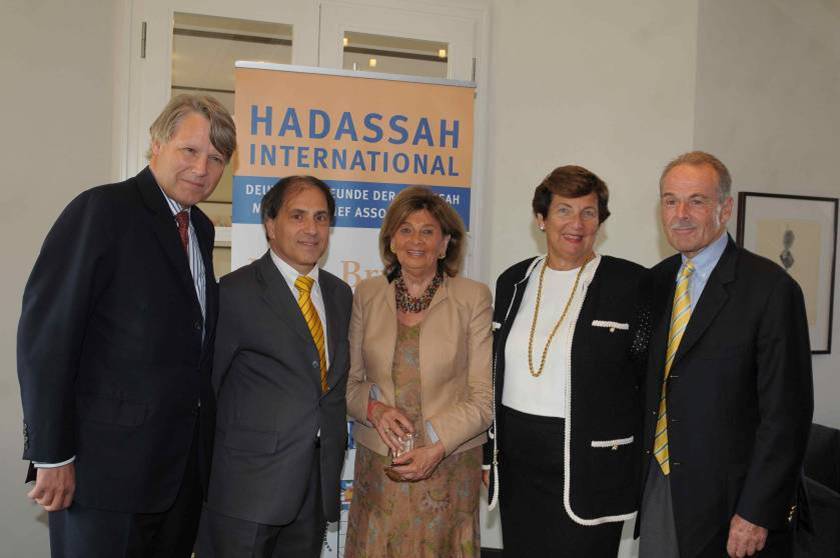 Building on the heightened visibility in Germany for the Hadassah Medical Center's cutting-edge healing, teaching, and research, Director of Hadassah Germany Gady Gronich welcomed Sarah Wetsman Davidson Tower Campaign Chairs Judy and Sidney Swartz to Germany to launch the Tower Fundraising Campaign. "It was so exciting to meet all kinds of people who, regardless of their faith, admire the brainpower and research at Hadassah and want to partner with us," Mrs. Swartz relates.
"For us," she continues, "this was the most empowering thing because we want to find partners all over the world." The Swartz's met with donors and potential supporters of the Tower in Munich and Berlin, both in one-on-one meetings and at private dinners hosted by local families. They also attended Hadassah Germany's Board of Governors meeting in Munich and a reception at the Israeli Embassy in Berlin. From the owner of a publishing company who is active in the Russian Jewish community to a businessman working in the pharmaceutical industry to a film producer and a prince; from a Holocaust survivor to young people influential in the Jewish community, the Swartz's forged friendships with distinguished members of German society. They graciously offered to open doors for Hadassah, including sending a group of business people to visit the Medical Center and hosting a fundraising concert in a castle, featuring a world-renowned violinist. Many assured Mr. and Mrs. Swartz that their personal financial support for the Tower would be forthcoming.
Mr. Swartz adds: "I met with people who live in a different part of the world and come to the conversation with totally different life experiences from mine. But we share the understanding of what Hadassah is doing and what it could do." Together, Mrs. Swartz says, "we can bring goodness to the world."
For more information, contact Hadassah Germany at info@hadassah.de.