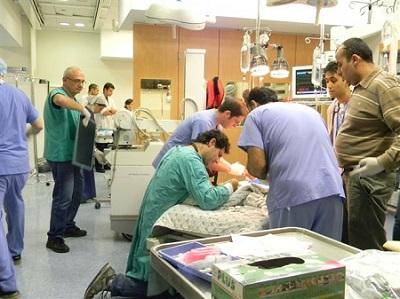 At a checkpoint separating Jerusalem from the West Bank, a bus filled with Palestinian school children collided with a truck; some of the most seriously injured children were rushed to the Hadassah University Medical Center's trauma unit for urgent care.
Sedated and covered with special protective foil blankets, black from their burns, the unconscious children arrived. Dozens of medical professionals–pediatric surgeons, pediatric plastic surgeons, general surgeons, anesthetists, pediatric intensivists, pulmonologists, orthopedists, ophthalmologists, maxillofacial specialists, radiologists, nurses, and social workers—were poised to receive the young victims.
Airways were opened, large amounts of analgesics were administered, x-rays were taken, burned skin was carefully removed, and blood washed away so the multidisciplinary team could properly assess and treat the injured children.
Hundreds of calls began pouring into Hadassah from concerned family members, as dozens of others arrived at the Hospital, seeking information about their children. Within minutes, a special Family Information Room was opened, manned with Arabic and Hebrew-speaking social workers. Local and foreign television crews came to cover the event and were updated by Director of Hadassah Hospital-Ein Kerem, Dr. Yuval Weiss.
Hadassah made extensive efforts to procure a list of the wounded who were taken to a hospital in Ramallah. This proved to be "mission impossible," so one of Hadassah's physicians went over to the Ramallah hospital, wrote down the name of each child, and sent it back to Hadassah so the staff could share the information with worried relatives who did not know where their children were.