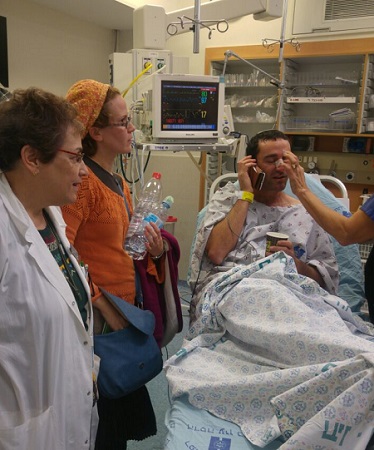 The latest news from the Hadassah Trauma Center after four soldiers were killed and 17 wounded when a flatbed truck driven by an Arab terrorist rammed into a group of conscripts adjacent to the Armon Hanatziv promenade in southern Jerusalem today:
Eleven patients from the terrorist attack are currently being treated at Hadassah's two hospitals: nine at Ein Kerem and two at Mount Scopus. Two patients are in serious condition, undergoing surgery; three are in moderate condition, and the rest are lightly injured (limb injuries) —including the son of Hadassah hematologist Prof. Deborah Rund. Eytan Rund was the guide for a group of soldiers, and despite being hit himself by the ramming truck, pursued the terrorist and shot him.
At least thirty staff members, including senior trauma experts, attended the injured in the Judy and Sidney Swartz Shock Trauma Center and on Mount Scopus.
To read more about the terrorist attack on the Haas Tayelet that left 4 dead and 17 injured, please go to http://www.jpost.com/Israel-News/Suspected-vehicular-terror-attack-in-Jerusalem-multiple-injured-477779 
Photo above: Eytan Rund giving phone interviews to media while being treated at Hadassah