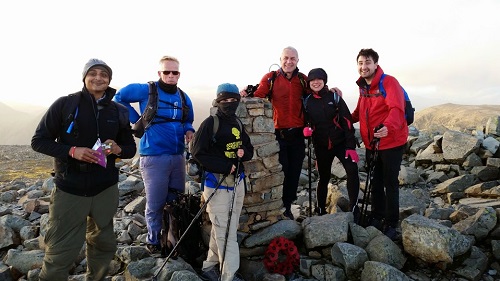 The Three Peaks Challenge climbing Ben Nevis in Scotland, Scaffel Pike in England and Mount Snowdon in Wales is a serious challenge. Add in the time pressure to complete the walking up and down the mountains with an elevation gain of 3400 metres overall, driving time between the three peaks in 24 hours all while missing a night's sleep and it is not a task for the feint-hearted.
The Hadassah team met in Glasgow the night before the challenge, had a safety briefing and overnight stay at the Glen Nevis Hostel in Fort William before starting the ascent of the UK's highest peak at 7am. Gale force winds and snow spikes were part of the first adventure, with unseasonal snow fall for May on Ben Nevis (1344m). As one team member, Howard Sinclair pointed out "Unless you live in the mountains, no amount of training prepares you for the relentless effort; climbing and descending were equally tough."
Ben Nevis was successfully completed followed by Scaffel Pike (978m) in the Lake District, where the exhausted team experienced brilliant sunshine, finishing at sunset. A short drive got them to Wales for 3am where the final mountain, Snowdon (1085m) was climbed in darkness, rain and mist.
Luckily, Hadassah UK had not only a fantastic team made up on 7 walkers, but great support crew in the form of mountain guide, Bruno and driver, Tony from Activus Outdoors, an adventure company based in Cumbria who support 3 Peak Challenge teams and arrange logistics.
Talented director Daniel Waterman filmed the expedition and created this snap shot of the 3 Peaks Challenge experience: https://www.youtube.com/watch?v=WCRqCMs1IcE&feature=youtu.be
All the money raised from this adventure goes toward Hadassah Hospital and in particular Multiple Sclerosis Research. Donations can be made at www.hadassahuk.org