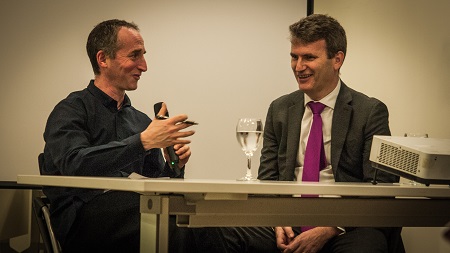 Mark Lewis, a prominent UK lawyer who has spent many years in a "search for a miracle cure," shared his personal journey battling MS with an audience of Hadassah supporters in central London on January 24th. His message was that Hadassah medics "won't take no for an answer" in searching for a cure, and they are not giving up on MS. The audience listened eagerly to his story, and responded generously when requested to donate funds to support the research and improve the facilities at the Hadassah Muscular Sclerosis Center in Jerusalem
Life has been very tough for Mark Lewis for over 25 years as he has battled secondary progressive multiple sclerosis (MS). But as he revealed to the audience of Hadassah UK supporters, a medical team of "won't-take-no-for-an-answer" at the Hadassah Hospital in Jerusalem are developing what might be a cure for his MS, and a group of other neurological conditions such as ALS and Parkinson's.
In conversation with TV director David Modell, who has made a remarkable Channel 4 film about Lewis's "search for a miracle cure", the Manchester-born lawyer spoke frankly about MS and how it had affected his life — and what improvements there have been in his condition since taking part in the Hadassah clinical trial, as Patient 31, in the last year. (See photo above).
Lewis had been determined to try and find a place on the Hadassah MS trial headed by Professor Dimitrios Karussis. And it was that determination and mindset which led to his acceptance as one of 48 patients treated at Hadassah. Each patient has stem cells extracted from their own bone marrow, refined in the laboratory, and then re-injected, in a painful procedure, directly into the spine.
He shared with the audience that his initial dramatic improvement has not been sustained — although he believes he is at least 20 per cent better than before the treatment. Lewis is now hoping to be accepted for the next stage in the clinical trials at Hadassah. He stated that he has a profound belief in the possibility of a cure — and that such a cure will be found by the Hadassah team in Jerusalem.
Rabbi Tatz, who is a medical doctor who lectures at the Jewish Learning Exchange, reminded the audience of the kabbalistic imperative of seizing opportunities when they are presented; while Mark Lewis's partner, Mandy Blumenthal, encouraged the audience — some of whom were in wheelchairs or were using walking aids — to do whatever they could to help the charity.
Read more at http://www.hadassahuk.org/top-lawyer-ms-says-israeli-medics-wont-take-no-answer-cure-search/