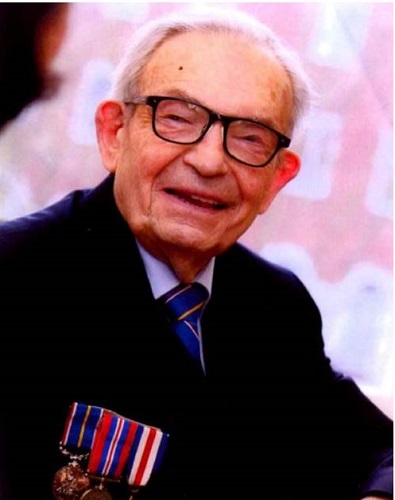 Eric Linton  1921-2015
We at Hadassah UK sadly lost a long-standing supporter in December. Mr Eric Linton was a strongly independent person and a huge friend of Israel. He was born in Germany on the Czech border in 1921 into a comfortable family of textile merchants and he and his family managed to escape Germany at the last minute and arrived in London where his father set up business again and Eric joined the Royal West Kent Regiment during the war.
Eric had an instinctive aptitude for the stock market and build up a very healthy portfolio which he managed himself well into his 80's when he very reluctantly put it in the hands of stockbrokers, although he never became a passive investor.
The twinkle in his eye, his dapper dressing and his dry humour gave him a boundless capacity to befriend people from all walks of life. However, Eric Linton had another side – a deep sense of his Jewishness, being a member of St John's Wood Synagogue and his Israel where he loved to travel. He was an observant Jew and his love of Israel ran deep, inculcated by his family and his experience of the Shoah.
Eric leaves his own deep mark on Israel now by leaving a bequest to Hadassah UK which will change the lives of not just Jerusalemites and will significantly help heal the sick.
Eric will specifically help create new operating rooms desperately needed at Hadassah Hospital together with Intensive Care Rooms to give the post-operative aftercare needed and for which Hadassah is famous.
We at Hadassah will say the "Kaddish" prayer for Eric in perpetuity, as we do to all our legacy donors in our beautiful Chagall windowed Synagogue, where the Jerusalem sunshine is broken down into the colours and designs of the twelve tribes as created by Marc Chagall.
Hadassah and all Jerusalemites salute Eric Linton z'l