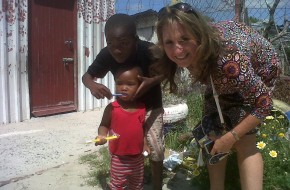 Thanks to the Dental Wellness Trust, founded by Hadassah United Kingdom Trustee Dr. Linda Greenwall, an innovative, supervised tooth brushing program has been taking place in Khayelitsha, South Africa since last April, involving 600 school children.
A follow-up conference last month in South Africa provided an opportunity to assess the program's strategy and progress in promoting good oral health among the country's most vulnerable children. Dr. Alon Livny of Hadassah's School of Dental Medicine was one of the presenters. Following the conference, he and Dr. Greenwall led an oral health screening program for the children. Dr.  Livny is also leading the major research on the supervised tooth brushing program in Khayalitcha, a township near Cape Town. Plans are in the works to extend the study to reach 1200 children in 8 schools in South Africa. The study model is based on the research being done at Hadassah among Arab and Jewish school children.
Last August, the Dental Wellness Trust, a London-based charity which promotes dental wellness for less fortunate communities in the UK and abroad, co-hosted an Oral Health Conference in Cape Town, together with the University of the Western Cape. The conference brought together key oral health stakeholders and offered an opportunity to share ideas, clinical experience, and research. The participating stakeholders all agreed it was high time to address this forgotten area of the health sector, which has been on the back burner because existing dental health care facilities are preoccupied with emergency tooth removal, rather then preventive care.
"What we discovered," explains Dr. Greenwall, "is that the program has far-reaching effects for the children, the teachers, the parents, and the wider community. It has offered inspiration to others, who see that this program is about more than the dental health of these children; that there is also the sense of accomplishment and affirmation for those involved because they see that they have made a difference in the lives of the kids and the wider community. As a result of this program, there is better communication between teachers and kids, parents and teachers, and kids and their parents. Cleaning their teeth with pride and joy and a song in their hearts has given the kids great satisfaction and happiness in a job well done."  For more information, see www.dentalwellnesstrust.org.