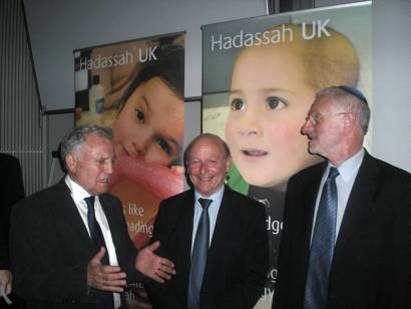 Creating stronger connections between medicine in the United Kingdom and Israel and heightening awareness of the Hadassah Medical Center's egalitarian first-rate medicine, Hadassah United Kingdom co-sponsored the 2009 Henry Cohen Visiting Professorship along with the Jewish Medical Association of the UK (JMed), bringing a leading UK physician to Israel to witness Israeli medicine first hand.
The Henry Cohen Visiting Professorship was founded in memory of Lord Cohen, one of the UK's most distinguished neurologists and for many years President of the General Medical Council (GMC). Lord Cohen had a keen interest in Israeli medicine and the development of Israel's medical schools and sought to forge links between UK and Israeli medicine. The Visiting Professor, as per the principles of the professorship, spends several days in Israel and then presents a lecture to his medical colleagues in the UK upon his return home, preferably at JMed's annual general meeting.
This year's recipient is Prof. Peter Rubin, Chair of the UK GMC and one of the the UK's most distinguished clinical academics. On his trip to Israel in June, Prof. Rubin visited with physicians, biomedical scientists, and medical educators from all four of Israel's medical schools. He toured Israel's major medical institutions, beginning with the Hadassah Medical Center, where he met with Director General Prof. Shlomo Mor-Yosef and attended medical seminars. Prof. Rubin also had the opportunity to dialogue with young British medical graduates working in Israel; Dr. Yoram Blachar, President of the Israel Medical Association; and Prof. Avi Israeli, Director General of the Ministry of Health.
A former head of the Department of Medicine and Dean of the Medical School at the University of Nottingham, Prof. Rubin has served as Chair of the GMC Education Committee, which determines content and standards for UK undergraduate medical education, and as Chair of GMC's Postgraduate Medical Education and Training Board, which is responsible for determining standards for postgraduate education. On July 21, Prof. Rubin addressed an audience of over 90 doctors, professors, and medical students at University College London.
For more information, email uk.office@hadassah.org.