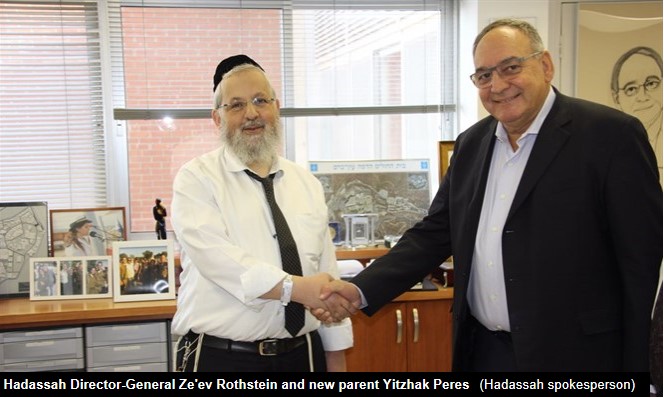 For 27 years, Rabbi Yitzchak and Sima Peretz have volunteered at the Hadassah Medical Organization, arranging and preparing meals and sleeping arrangements for families of patients; now, they, after 30 years of waiting, have been blessed with a child of their own–born at Hadassah.
"Every single department throughout the entire hospital is celebrating this joyous occasion," says Prof. Zeev Rotstein, HMO Director General.
Known for their kindness, compassion, and selflessness, Rabbi and Mrs. Peretz have become part of the greater Hadassah Ein Kerem hospital family, often easing the experience for patients and their families who are spending Shabbat and Jewish holidays in the hospital.
HMO Rabbi Moshe Klein, who has worked closely with the Peretz couple, conveyed to them: "The happiness and excitement felt throughout the hospital is indescribable. Anyone who has spent a Sabbath or Jewish holiday at Hadassah was impacted by your dedication, kindness, and compassion. It is no coincidence that you were blessed with a child during the week we read within the Torah portion about Abraham and Sarah being blessed with a child of their own–a biblical couple that were the embodiment of hospitality and kindness toward others."
Rabbi Peretz thanks Hadassah Senior Obstetrician Prof. Neri Laufer, as well as the entire medical staff, for their professional and dedicated care. "Special thanks to Dr. Shlomi Yahalomy," he says, "who personally guided us throughout the entire process and made himself available for anything, at any time."
Rabbi Klein blessed the new parents with the ability to continue their amazing work within Hadassah for years to come. "We'll definitely be back," they proudly replied.