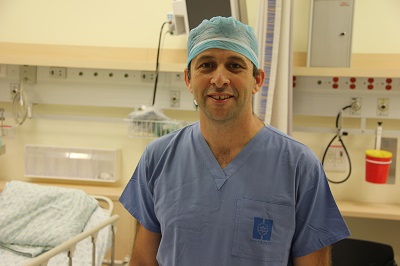 Dr. Guy Hidas, an expert in medical and surgical treatment of complex urinary tract defects, has been named Director of Pediatric Urology at the Hadassah Medical Center.
Having completed his residency in general urology at Hadassah, Dr. Hidas later went on to specialize in pediatric urology in the United States, including a fellowship at the University of California. He also completed a master of science program in biomedical and translational science at the University of California School of Medicine.
Dr. Hidas specializes in reconstructive surgery for urinary incontinence and repair of congenital malformations in the kidneys, bladder, and genitals. He works closely with Hadassah's head of Pediatric Endocrinology, Prof. David Zangen, in helping babies and children born with ambiguous genitalia. This is a rare condition in which the external genitals don't appear to be clearly either male or female. They may not be well-formed or the child may have characteristics of both sexes. After gender assignment, Hadassah's surgical team performs surgery to create the desired functionally and cosmetically correct genitalia.
Dr. Hidas also performs laparoscopic surgery and minimally invasive robotic surgery on infants and children. A member of both the Israel Urological Association and the American Urological Association, Dr. Hidas is a senior lecturer at the Hadassah-Hebrew University School of Medicine. Every few months, Dr. Hidas visits Ziv Medical Center in Safed to perform pediatric urologic surgeries. "Urology problems are most prevalent and quite diversified," he relates. "Most problems are diagnosed before birth during a fetal examination, and some later on when the child experiences difficulties in bladder control and getting rid of diapers. Besides affecting both the child and family's quality of life, these problems can further deteriorate to kidney or fertility problems."
Reflecting on his new appointment, Dr. Hidas says: "My ambition is to do all I can, together with our excellent pediatric urology team, to ensure that our patients can enjoy good health and a better quality of life after receiving the appropriate treatment. I have no doubt that a magnificent institution like Hadassah, situated at the forefront of modern medicine, deserves to be a leader and a pioneer in the field of pediatric urology too."