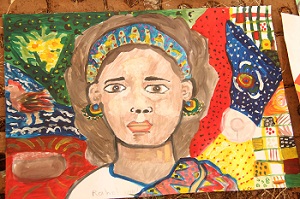 As part of the Hadassah Medical Center's ART-Joy-Love project in Addis Ababa, Ethiopia, devoted to helping orphans with HIV/AIDS, Hadassah's health professionals once again traveled to Ethiopia for a multi-layered outreach—this time including an art show which showcased the work of talented teenagers from the orphanages.
During their school vacation, 15 talented teenagers from the orphanages were invited by ART-Joy-Love to create works of art, guided by well-known local artists from the Netsa Art Village in Addis Ababa. Their art was then exhibited at the School of Fine Arts and Design at Addis Ababa University, preceded by a gala opening ceremony at the school under the auspices of the Embassy of Israel in Ethiopia, sponsored by ART-Joy-Love, along with AHOPE, Artists for Charity, Netsa Art Village, and Fekat Circus. All the children from two orphanages were invited to attend and see a performance by Israeli and Ethiopian medical clowns ("Dream Doctors") and the Fekat Circus. The Addis Ababa dream doctors belong to the circus.
The art show was the culmination of over a week of activities for the children and their caregivers. Hadassah Psychologist Ahuva Yavin-Arnon and Social worker Estelle Rubinstein of Hadassah's Pediatric AIDS Center led a seminar for the caregivers of three orphanages on psychosocial issues during adolescence. Hadassah's medical clowns–Dudi, Titto, and Tilli–trained their local colleagues, accompanying them to the orphanages and also to the pediatric department at the Black Lion University Hospital in Addis Ababa.
ART-Joy-Love was founded by Prof. Dan Engelhard, head of Hadassah's Pediatric AIDS Center, Pediatric Infectious Disease Unit, as well as ART-Joy-Love.