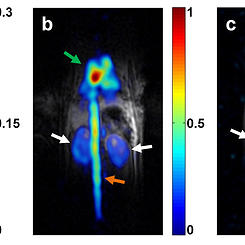 Breaking new ground for MRI imaging in diagnosing cancerous lesions and observing the body in real time as it metabolizes various molecules, Hadassah's Center for Hyperpolarized MRI Molecular Imaging is an innovator in its domain. Using a technique called hyperpolarization, the Center is able to increase the sensitivity of an MRI scan 10,000 fold.
Specifically, two of the Center's ultimate goals are to diagnose a lesion accurately enough to decide whether it requires treatment and which type, without the need for a biopsy; and to be able to understand how medications given for neuropsychiatric/degenerative conditions such as Parkinson's disease, Alzheimer's disease, schizophrenia, Attention Deficit Hyperactivity Disorder (ADHD), and severe depression function within the body and prove therapeutic.
Under the directorship of Dr. Rachel Katz-Brull, the Center is developing its own unique molecules (called molecular imaging probes) that will help unravel this mystery. A major advantage to these probes is that they are nonradioactive, making the MRI an option for children, pregnant women, and those patients who need repeated metabolic imaging scans. These probes allow the researchers to visualize a specific activity, a function at the molecular level, within the body. Conventional MRI is not sensitive enough to "see" these molecules.
As Dr. Katz-Brull relates, better non-invasive markers for the biological characterization of questionable lesions "are desperately needed to provide more accurate diagnoses and staging, as well as to reduce unnecessary biopsies, which can result in morbidity, stress, and anxiety. When it comes to neurobiological diseases and neurodegenerative diseases, physicians are in desperate need for biomarkers–a quantifiable biological sign of disease–for guiding treatment and making sure that the treatment does benefit the individual patient."
The Center's innovative diagnostic process begins with hyperpolarization, where the molecules are placed in a polarizer that sits alongside the MRI scanner. Once polarized and capable of shining brightly in the MRI image, the probes are"very quickly" injected into the patient. "Very quickly means within seconds," explains Dr. Katz-Brull, "because polarization is normally lost within one to five minutes."
The particular focus of Hadassah's imaging center is developing probes for cancer and neuropsychiatric disorders. The Center is now in the process of producing and conducting pre-clinical testing on various biomarkers for brain, prostate, and breast cancer, along with markers for schizophrenia, ADHD, Parkinson's, Alzheimer's, and major depressive disorders. The goal is to witness abnormal uptake of the molecules or abnormal metabolic pathways which will indicate the presence of cancer or a neuropsychiatric disorder. This abnormality is revealed by the way the hyperpolarized molecules are distributed on the MRI.
One line of investigation involves creating a probe that is similar in chemical structure to L-DOPA, a treatment for Parkinson's disease. The research team plans to hyperpolarize this analog to enhance its visibility, inject it, and observe how the L-DOPA is taken up by the body's tissues. As Dr. Katz-Brull explains: L-DOPA is converted to dopamine in what are called dopaminergic neurons. Because dopaminergic neurons die in Parkinson's disease, such regions in the brain where these neurons have died lose the ability to metabolize L-DOPA to dopamine. The idea is for the hyperpolarized MRI to reveal for the physician the actual levels of dopamine synthesis in the brain. This process, she brings out, is a viable way to help diagnose Parkinson's disease in its early stages, tailor treatment to the patient's individual condition, and help monitor responses to treatment in real time. "To the best of my knowledge," Dr. Katz-Brull relates, "we are the only laboratory in the world working with this concept."
What is particularly significant is that the hyperpolarization allows us to observe a person's brain function in real time. As Dr. Katz-Brull expresses: "These processes occur all the time; this is actually how the brain works–by sending chemical messages from one neuron to another and we will try to image exactly that."
The Center's Research is carried out in collaboration with Hadassah colleagues Prof. Jacob Sosna, Chair of the Department of Radiology; Prof. J.  Moshe Gomori, head of MRI and Neuroradiology; and Prof. Tamir Ben-Hur, head of Neurology, along with the Hadassah-Hebrew University Faculty of Medicine, as well as with a worldwide network of physician/scientists at other research institutions who are leaders in this new field of Hyperpolarized MRI Molecular Imaging.
Dr. Rachel Katz-Brull notes: Once the pre-clinical trials are completed, the goal is to "bring this technology from bench-side to the patient's bedside"—to begin clinical trials with human patients.