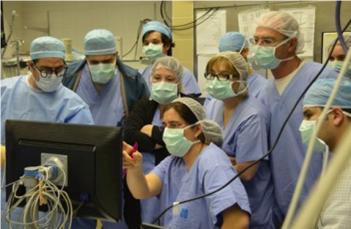 Thanks to a wide range of sophisticated diagnostic and monitoring equipment, innovative treatment options, and a dedicated multidisciplinary team with an impressive success rate, the Hadassah Medical Center's Comprehensive Epilepsy Center continues to draw increasing numbers of patients from throughout Israel and abroad.
Adult and pediatric neurologists, neurosurgeons, psychiatrists, neuropsychologists, radiologists, nuclear medicine experts, nurses, nutrition specialists, and researchers help patients of all ages to navigate this common, but complex disorder called epilepsy.
With the right treatment, 70 percent of patients with epilepsy become seizure free and are able to lead completely normal lives. Many patients who continue to suffer from seizures despite medical therapy can be helped through surgical procedures.
In 2012, 623 adults were treated at Hadassah's Epilepsy Clinic within the Center and approximately 900 other individuals with less serious epileptic conditions were seen in the general Neurology Clinic. During 2012, 100 adult and 74 pediatric patients were hospitalized in the Center for Video-EEG monitoring, where the electrical activities of the brain are recorded for a prolonged period of time while simultaneously video recordings are made of the patient's clinical manifestations. In this way, the physicians gain a better understanding of where the seizure originates in the brain and can then decide on an appropriate surgical treatment.
One patient success story concerns a 48-year old former truck driver, who suffered from drug-resistant, almost daily seizures. He underwent invasive Video-EEG monitoring, followed by resective surgery a few months later, where the area in the brain identified by EEG monitoring as responsible for the seizures is removed. Nearly 10 months post-surgery, he had only experienced four episodes of seizures–all of them during sleep at night.
Thanks to the diagnostic, surgical, and follow-up rehabilitation services at the Comprehensive Epilepsy Center, this man's quality of life has improved greatly. While before treatment he could never be left alone and was unable to leave his house except for medical purposes, he is now no longer dependant on family members for daily activities. He is even able to travel and visit relatives and friends and has returned to his previous hobby of cooking.
Another patient whose quality of life has been dramatically improved is a 34 year old woman who had been suffering from epilepsy since the age of 19. Her epilepsy had developed due to a brain cyst. Through Video-EEG monitoring, the Center's specialists located the focus of her seizures in the vicinity of the cyst. Since her resection and the removal of the cyst, the woman has been free of seizures.
Clinical Trials
To advance knowledge of brain disorders in general and epilepsy in particular, as well as to enhance understanding of the human brain's normal function, the multidisciplinary specialists at the Center conduct ongoing clinical trials and research studies. For example, Center researchers are investigating the safety and efficacy of new diagnostic procedures and approaches to treatment. They are also conducting observational studies of patterns in disease progression and interactions of medications with patients treated at the Out-Patient Clinic, using a comprehensive database that they developed.
In addition, the Center is also involved in an international, multi-center industry-initiated Phase III clinical trial of intra-nasal administration of midazolam for treatment of seizure clusters.
For those patients with Psychogenic Non-Epileptic Seizures (PNES)–seizures that are caused by the impact of thoughts and feelings on brain function–the Center has begun employing EEG monitoring as part of an experimental treatment strategy. This particular type of seizure is most challenging to treat, but psychologists have been able to achieve some success with cognitive behavioral therapy.
The Center staff members are looking forward to moving into the new Sarah Wetsman Davidson Hospital Tower and being able to continue to provide our patients with the highest standard of care, but now in a sophisticated, state-of-the-art environment.