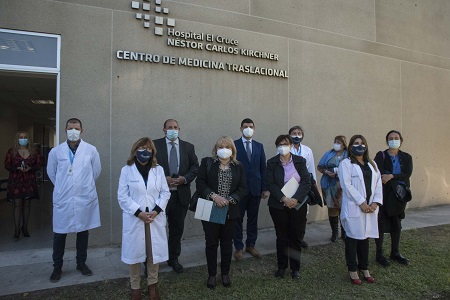 During the last day of the Hadassah Medical Organization's COVID-19 Medical Mission to Argentina, the Hadassah delegates traveled to the southern part of the province of Buenos Aires to visit Hospital del Cruce, the most sophisticated hospital in the province.
After being greeted by Vice Minister of Health Dr. Arnaldo Medina and the entire medical management team, the Hadassah delegates received a detailed tour of the hospital, where they had the opportunity to see how COVID-19 is being handled in Argentina. Prof. Sigal Sviri, head of Hadassah's COVID-19 intensive care units, carried out an in-depth analysis of the situation together with the Hospital del Cruce management team, resulting in a valuable exchange of ideas and experiences. Prof. Sviri then held a video conference from Hospital del Cruce with intensive care physicians at hospitals stretching from the remote south to the north of Argentina, providing advice on running COVID-19 intensive care units. COVID-19 nurse specialist Claudia Poggi then held a video conference with nurses in the province.
At the end of the successful visit, the Hadassah delegates and their Argentinian colleagues expressed to one another their interest in conducting joint research projects.
The next stop for the Hadassah delegation was the Scientific Center of the Ministry of Science and Technology, where Argentine scientists explained some of the COVID-19 research projects they are engaged in, including the development of COVID-19 test kits and vaccines. Hadassah's Prof. Dror Mevorach, director of Hadassah's Department of Internal Medicine and Hadassah's COVID-19 Unit,  shared his experiences in developing, together with Enlivex, the drug Allocetra™ to treat COVID-19 and the results of phase I and II clinical trials of the medication. Prof. Mevorach is a specialist in innovative treatments for COVID-19.
Prof. Mevorach and Prof. Yoram Weis, director of Hadassah Hospital Ein Kerem, then met with the medical directors of the Fernandez Hospital in the city of Buenos Aires.
The Hadassah delegation noted that all the medical teams they interacted with during this very productive day expressed their appreciation for the Hadassah's team generosity and their willingness to share their experience.