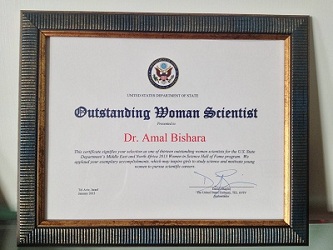 Dr. Amal Bishara, initiator and head of the Hadassah Medical Center's Arab Bone Marrow Registry Outreach Project, has been named "an outstanding woman scientist in the Middle East and North Africa" by the United States Department of State.
One of 13 women to receive this honor, Dr. Bishara was presented with the certificate pictured above in a ceremony at the residence of US Ambassador to Israel HE Daniel Shapiro. Begun in 2008 as part of Hadassah's Tissue Typing Unit and Donor Registry, the Arab registry–the only one in the world—has 15,000 potential donors in its data base and has been responsible for 22 fully matching bone marrow transplants.
Hadassah Austria has been a major supporter of Dr. Bishara's project.