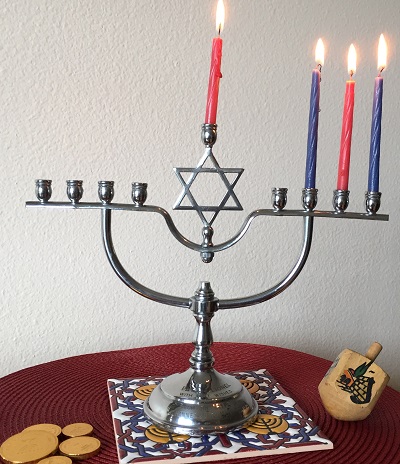 Well Enough to Marry: Hanukkah Miracle #3.
Mazal tov! Lieba (not her real name) is engaged! She's only 18, but in her Hassidic community, that's the accepted age to become engaged.
Four years ago, her chances of getting married were nearly nil. She had a serious case of Crohn's disease, which caused her to have intense abdominal pain, fatigue, severe diarrhea, and malnutrition. She was thin and pale, and her life was dominated by illness. Ashkenazi Jews, originally from Central and Eastern Europe, are two to four times more likely to develop Crohn's than those of non-Jewish European ancestry. An additional risk is marrying someone from an insular group, like a specific Hassidic sect.
Although Lieba is the middle child of seven siblings, she was the only one to develop this disease. Her parents first brought her to the Hadassah Medical Organization's Pediatric Gastroenterology Clinic when she was 14. Prof. Michael Wilschanski and his team were able to stabilize Lieba's condition and control the symptoms by treating her with intravenous medication every four weeks. She's still slim, but no longer gaunt. Her prognosis is good.
Lieba's parents, with whom Prof. Wilschanski is very close, took a copy of her medical chart to the matchmaker so that families who are considering Lieba as a marriage partner for their children can check out her medical condition. Because of the frequency of her visits to Hadassah over the years, Prof. Wilschanski has become part of the family. He is invited to all the family events, such as the weddings of Lieba's siblings, always knowing that his patient was praying she would be well enough to get married one day. Prof. Wilschanski even got involved in finding a suitable match for Lieba, speaking to several matchmakers–with the family's permission, of course.
Lieba met Shmuel, an 18-year-old young man without any known medical problems. After a number of meetings during which they talked about themselves and their dreams, the two young people decided to get married. Delighted and excited, Lieba called Prof. Wilschanski to tell him she would be getting engaged on Hanukkah. "Thank you for making my dream come true," she said. "For me, it's the best Hanukkah miracle of my life."
Think of all the miracles you are privileged to be part of by joining and supporting Hadassah.
By Barbara Sofer
Israel Director of Public Relations
Hadassah, the Women's Zionist Organization of America